Lieutenant Charles Henry Burks and Sergeant James Armstrong Burks
"Tales from a Civil War Prison"
August 30, 1999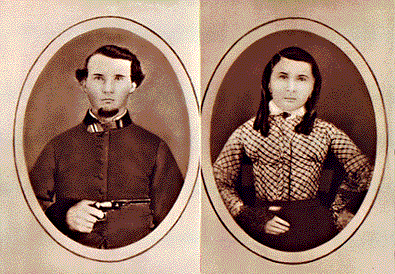 James Howell's great grandfather, Sergeant James Armstrong Burks, and great grandmother, Harriet Elizabeth Todd Burks. According to Ken Tilley, archivist at the Alabama Department of Archives and History, it isn't surprising that Sergeant Burks' uniform lacks stripes on the shoulder or sleeves that would indicate rank. Non-commissioned officers in the CSA were not differentiated that way. Burks' pistol is a 44 Colt revolver, a common sidearm for many soldiers on both sides of the conflict. (Couresty James M. Howell)
A Tale of Two Brothers
On December 15, 1864, Second Lieutenant Charles Henry Burks, CSA, was captured in the Battle of Nashville. Soon thereafter he found himself in the Federal officers' prison at Johnson's Island, Ohio. He would remain there for 122 days before he was pardoned on May 16, 1865--a short stay relative to those of many of his fellow officers. He was only 19 years of age and for battlefield bravery had only recently been promoted to a Brevet Second Lieutenant.
The road to Johnson's Island began two-and-a-half years earlier when Charles Burks and his older brother James Armstrong Burks, my great grandfather, enlisted in Company E of the 34th Alabama Infantry. The formal organization of the 34th took place in Loachapoka, Alabama on April 15, 1862. The brothers' enlistment actually occurred on March 22 and was for three years or the duration of the War at a salary of $17 per month.
Initially, Company E was composed of 180 men--six officers and 13 non-commissioned officers, with the balance made up of privates. In subsequent organizational changes, the 34th Alabama was combined with the 24th and 28th Alabama and two South Carolina regiments into General Manigault's brigade. Manigault's Brigade fought throughout the war in many skirmishes and major battles, most notably Murfreesboro and the "Hundred Days Battle" in the spring and summer of 1864 from Dalton to Atlanta.
The 34th suffered its greatest losses at the battle of Nashville in mid-December 1864. Among its six officers, two were captured at Nashville, and of its 13 non-commissioned officers, one was killed and Charles Burks was captured and sent to Johnson's Island. My great grandfather James was wounded in the same battle and was subsequently sent to a way hospital in Meridian, Mississippi, to recuperate.
For the Burks brothers, the war was over. In some respects, their war ended far better than that of many others of the original 180. Eight were killed, but the toll from disease was far greater--47 men died of disease over the three years in which the 34th was in active combat. The usual cause was typhoid fever but more common diseases to us today, such as measles and chronic diarrhea, also took their toll.
For those of you who want to trace the specific circumstances surrounding your ancestors, I can offer some practical advice. Without question the first point is to counsel great patience. To begin to unravel complicated family relations dating back more than a century will be a time-consuming, but rewarding experience.
Second, the most obvious specific departure point is to discuss these issues with your parents and grandparents. Find out if they can recall the existence of a family Bible. This is one of the most important sources of family history. Even thought you may not know these individuals, view them as potentially valuable information sources. Pick up the telephone and call them. Finally, another valuable source of information is Bertram Hawthorne Groene's Tracing your Civil War Ancestors published by Ballantine in New York.


James M. Howell, Boston, MA
The Benchmarks of War
Listings from the 34th Alabama Infantry Regiment, Company E-Tallapoosa Co, of which there were 6 officers, 13 non commissioned officers, ranging in age from 17 (Howell's great great uncle was the baby) to 35:
Burks, Charles H. (Charlie), age 17. 5'5", brown hair hazel eyes. Enl. as Pvt. 12 Mar 1862. Prom 2nd Sgt. Prom Bvt. 2nd Lieut. Hosp. Tunnel Hill, Ga. 2 July 1863. Captured Nashville 15 Dec. 1864. POW Johnson's Island Oh. 22 Dec. 1864. Par. 16 May 1865.
Burks, James Armstrong, 3rd Sgt., age 28. Enl. 12 Mar. 1862. Sick furlough May 1862. Hosp. Lauerdale Spr. Miss. 27 June 1862. Sick 15 July 1862. Home on sick furlough Oct.-Nov. 1862. Way Hosp. Meridian Miss. 18 Jan. 1865.
Todd, William, 2nd Lieut, age 30. Enl. Macon Co. 12 Mar. 1862. Appointed 2nd Lieut. 22 Mar. 1862. Resigned due to illness (dyspepsia and pneumonia) 31 July 1862.
Singleton, Harry B., 4th Sgt., age 32. Enl. Macon Co. 12 Mar. 1862. Nurse in hosp. Dalton 16 Feb. 1864. Captured Nashville 16 Dec. 1864. POW Camp Chase 4 Jan. 1865. D. Camp Chase (pneumonia) 9 Feb. 1865. B. Confed. Cem. grave #1336.
Bryant, John Sanders, 1st Corporal, age 21. Enl. Loach. 12 Mar. 1862. Sick furlough Loach. May 1862. W. Murfreesboro (severely in shoulder) 31 Dec. 1862. Sick Dalton Dec. 1863. Captured Bentonville, N.C. 19, 20 or 21 Mar. 1865. POW Pt. Lookout Md. Par. 9 June 1865.


© 1999 by the Archaeological Institute of America
archive.archaeology.org/online/features/civil/words/burks.html
Share