Edward W. Brown, Theodore Z. Brown, and Thomas W. Brown
"Tales from a Civil War Prison"
August 30, 1999
(Courtesy Rachelle Brown)
I Won't Sign the Oath
I recently read the article about the excavation at Johnson's Island. Actually I nearly fell out of the seat on the plane as I read the article. As a person who has a hobby of archaeology and genealogy this was fascinating for me. I have read Portals to Hell, which profiles Johnson's Island and there is a sketch that an inmate there drew.
This past year I have been researching the Brown side of my family history and found there were three brothers that served in the Louisiana 9th infantry. When the Port Hudson battle was lost, they were captured. Theodore Z. Brown was dismissed for some reason. Thomas W. Brown was an officer at the time and was sent out on a ship to a prison camp in Delaware, but the Confederates overtook the ship and he escaped. Edward W. Brown, sick at the time, was taken from New Orleans to Johnson's island. His brothers pleaded with him to sign an oath the union soldiers offered him because he was sick, but he refused and died on January 19, 1864, at Johnson's Island.
Family lore says his body was returned after the war. I can not find any records of his burial in the parishes his family lived in or in military graveyards; perhaps he is buried at Johnson's Island.


Rachelle Brown, Springfield, MO
Poor Ed
Thomas Winthrop Brown recorded his brother's story in 1876:
As a prisoner, Edward White Brown was brought to New Orleans among the other Confederate officers who were surrendered at Pt. Hudson and after a short stay here, was sent thence to Johnson's Island, where after much suffering from a lingering illness and deprivation of all comforts except that was within the power of a few fellow prisoners to bestow, he died.
He was sick while in New Orleans, and knew he would die if held as a prisoner, yet his warm & enthusiastic adherence to the cause made him reject with scorn & indignity a proposition to release him if he would take an oath of Allegiance to the United States; he was pressed to do so by some of his near relatives who were with him, who urged upon him that this was the only means by which he might expect to be restored to health and of prolonging his life, but he preferred an honorable death to a life stained by a desertion of principle--as he would have considered it--and would not yield to the pleadings of his best friends. So he went to Johnson's Island, and there died a martyr to the Confederate cause.
Poor Ed! He was indeed a good man--honest and upright in all his dealings, a true Christian, and a zealous Mason. He was esteemed and honored by all who knew him. In the year l867 his remains were brought to Baton Rouge and there deposited in the Protestant cemetery. Peace to his ashes.
He left a wife and two children a son and daughter to mourn his untimely end.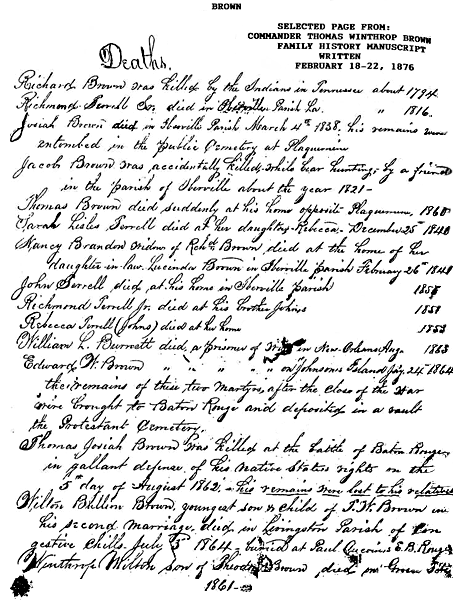 © 1999 by the Archaeological Institute of America
archive.archaeology.org/online/features/civil/words/brown.html
Share