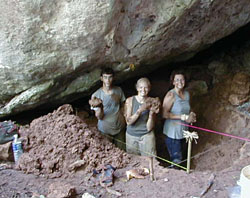 Clearing mud from Unit 1
The beginning of our new session was met with a tropical depression, and as a result, lots of rain. We weren't sure if we would make it out to camp because of the rising rivers, but by Tuesday we were able to hike out. The rains not only make our hike in and out of camp treacherous, both for us and our trucks, but they can be very destructive to excavation units as we found out when we made it to Actun Nak Beh. The unit that contained a potential burial had been seriously damaged by a waterfall, which came from an overhang above our backdirt pile. All of the unit walls were washed away, depositing up to 25 inches of mud, numerous rocks, and a boulder into the unit. It took us all week to clean it up so that it looks somewhat like a unit again. A few pieces of Belize Molded-carved pottery were recovered from the mud during our unit restoration. Stay tuned for next week's update for information on the potential burial.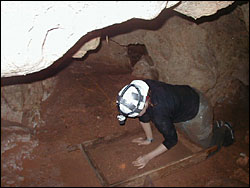 Student screens for artifacts inside Actun Nak Beh.
The rain, however, did not effect the inside of the cave, whose stalactites are either inactive or produce minimal water flow. In Unit 4 (Chamber 1), excavations continue to produce human remains. These bones appear to be associated with the human remains recovered from looter back dirt a few weeks ago. Stay tuned for an analysis of them.
Excavations in Unit 7 (Chamber 5) have yielded ceramic sherds, obsidian, and jute (freshwater shells) between stratigraphic layers of charcoal. So far, we have dug down almost three feet below the surface of the chamber's floor. Sediment deposition within this area of the cave appears to be similar to what we have encountered outside at the cave entrance.
June 20 | Nak Beh Intro | August 3
Share