Bigfoot vs. Indiana Jones: Battle of the Century
August 15, 2008
by Brittany Jackson
Photos by Eric A. Powell


Bigfoot is legendary for his elusive nature and the fact that all photos of him are of low quality.





Rare, out-of-focus image shows Bigfoot's rubber-stamp feet.
Two Georgia residents and a California-based self-proclaimed "Bigfoot tracker" have held a press conference to give "definitive" evidence for a Bigfoot body they say they recently pulled out of the woods in northern Georgia. The press conference was held today, August 15, 2008, 3pmET/12pmPT in Palo Alto, California. ARCHAEOLOGY was not invited, so we can't comment on any "evidence" presented there.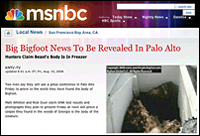 In any case, we want to see the body--not just low-quality photos. That said, the photograph online (for example, on the MSNBC website) looks, to us, like a gorilla suit shoved in a cooler, with some dentures added for effect. Even gorillas have modestly developed canines, while this "Bigfoot" does not. And we don't see much by way of tooth wear or staining, not a good sign for a full-grown animal. (The photo isn't very clear--even in death it seems Bigfoot is difficult for the camera to capture.)
Here's a quick summary of the claim:
What: They claim to have found the corpse of the legendary Bigfoot/Sasquatch/missing link and offer supposed photos, video, and DNA evidence to "prove" it. They're calling him "Rickmat" (based on the finders' names) and, in some reports, say that they saw several others as they were leaving with the body.
Claimed Specs: The specimen is said to be over 8'8" tall and weighs 400-600 pounds. His finders say that he walked upright.
When: Supposedly summer, 2008. The finders have given no date or exact location for their find. Maybe not a good sign for its authenticity.
Where: Allegedly in a remote, wooded area in northern Georgia
Who: Rick Dyer and Matthew Whitton, a police officer and a former corrections facility officer, supposedly found the body, though they give three different accounts of how this happened. They are supported by Tom Biscardi, a "Bigfoot professional" and founder of the Great American Bigfoot Research Organization. Incidentally, in 2005, Biscardi claimed he had found his own "Bigfoot" but never produced any strong evidence, such as a body. According to Dyer, Whitton, and Biscardi, the Bigfoot body is going to be studied by unnamed scientists at an "undisclosed location."
We're not laughing, but...
While awaiting their evidence, ARCHAEOLOGY has discovered its own specimen of the elusive beast and is planning on putting its power to the test against the wily Indiana Jones. It's the battle of the century between our plastic Bigfoot action figure and the great Lego Indiana Jones!
Can Indy hold onto his fedora?
Bigfoot has some major advantages against the doctor, including his arm length, sheer body mass, and feet (they can be used as rubber stamps!). He can reach farther, hit harder, and take much more abuse that the comparatively tiny Dr. Jones. Additionally, his stench--he doesn't bathe--makes him much harder to confront than your average, well-bathed monster. Indy's only chance may be to get inside and throw some hard, well-aimed punches to BF's knees. Alternatively, Indy's trusty whip may bring the great Bigfoot to the ground.
Bigfoot vs. Indiana Jones: Battle of the Century
Check out the players' specs below:
Bigfoot - produced by Accoutrements(R) Classic Toys
Specs: Arm length/reach: 9.5 cm
Height: 17.5 cm while standing, 18.4 cm with toes pointed
Foot length: 4.2 cm
LEGO Indiana Jones
Specs: Arm length/reach: about 1.5 cm
Height (in fedora): 4.5 cm
Foot size: 0.5 cm
Whip length: 8.5 cm
Who do YOU think will win? Cast your vote!
Links to other stories at ARCHAEOLOGY:
Links to other websites:
Brittany Jackson, an intern at ARCHAEOLOGY, is an undergraduate student at the University of Chicago pursuing a major in anthropology.
Share