Prozac Nation, 4000 B.C.
by Heather Pringle
March 13, 2009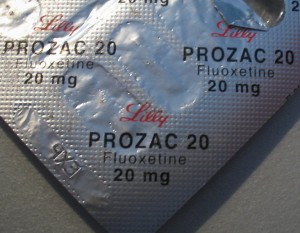 In the hills of Catalonia, some 50 miles northwest of Barcelona,  small bands of people began mining a spectacular reddish-blue outcrop of rock some 6000 years ago.  With broken, polished stone ax blades, they hammered at the steep slopes of Muntanya de Sal—one of only two salt domes in all Europe—breaking off large chunks of rock and hammering it into ever smaller pieces.  This precious commodity they traded among their neighbors for some of the finest ornaments of the age:  bracelets of shimmering sea shells and beads of a beautiful turquoiselike stone known as variscite.
Muntanya de Sal is the earliest-known rock-salt mine in Europe, and a lasting testament to the ancient hunger for salt.  And it raises a fascinating question.  Why were early coastal dwellers of Catalonia willing to part with their most beautiful and precious ornaments for a chunk of sodium chloride?  Did they intend to use the costly commodity as a salt lick for their herds, or a preservative for their fish catch?   
An intriguing new study out of the University of Iowa, which will be published in the July issue of Physiology & Behavior, puts a very new spin on the matter.  A team of psychologists led by Alan Kim Johnson has just suggested that salt acts very much like a drug—specifically a natural version of Prozac—on rats.  When the psychologists deprived lab rats of salt, the rodents began avoiding activities that they normally loved, such as slurping up a sugary fluid.  Such avoidance of pleasure, notes the team, is one of the key features of psychological depression, suggesting that the rats felt blue without their regular salt fix. 
Did farmers in Catalonia 6000 years ago crave salt as a mood-elevating drug?  It's a very intriguing idea.  Modern nutritional studies have shown that salt is an addictive substance among humans.  While we need less than 2 grams of sodium chloride daily (to regulate the flow of fluids in and out of cells, and to pass information from one nerve cell to another), we consume on average worldwide five times that amount each day.  And even when doctors instruct patients with high blood pressure to throw out their salt shakers, they struggle mightily to comply—just as smokers wrestle with giving up cigarettes.   
Moreover, Johnson and his colleagues have found another intriguing piece of the puzzle.  The team's studies show  that rats deprived of salt develop brain-activity patterns resembling those of rats deprived of drugs.  Such resemblances, Johnson explains, suggests "that salt need and cravings may be linked to the same brain pathways as those related to drug addiction and abuse." 
Were ancient well-to-do Catalonians hooked on a natural version of Prozac?  I'm sure we'll never know,  but it's an interesting idea to play with.   
Comments posted here do not represent the views or policies of the Archaeological Institute of America.