My Favorite Archaeology Books
by Heather Pringle
December 19, 2008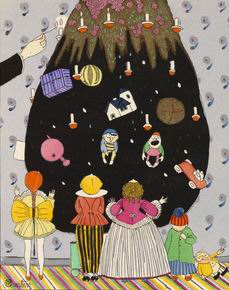 In between mass-producing sheets of Nanaimo bars,  taking our exuberant 10-month Labrador retriever on his first explorations of the world of snow,  and pouring myself a large Scotch after all the guests depart on Christmas Day,  I plan to spend as much time as possible over the holidays curled up with good books.  At the moment, I am deep into a wonderful novel, The Story of Edgar Sawtelle by David Wroblewski, which has nothing whatsoever to do with archaeology and everything to do with dogs, but I have a stack of books about the past that I'm dying to get to. 
If you are planning to dive into a good book or two over the holidays, I'd be happy to recommend a few that I've recently enjoyed. Most aren't new, but I can pretty much guarantee that each will appeal to the archaeologically minded.  Here they are, in no particular order:
In Ruins by Christopher Woodward.  I'd definitely put this book on my all-time favorite list.  Woodward is a British art historian who writes beautifully about the enduring appeal of ruins, and the joy that writers and artists have long taken in them.  My favorite passage concerns the Colosseum in Rome.  In the mid-19th century, a British botanist, Richard Deakin,  catalogued 420 species of plants flourishing in the Colosseum's 6 acres, including some flowers that were incredibly rare in Western Europe.  According to Woodward,  Deakin believed "that the only explanation for their presence was that 2000 years before their seeds had been scattered in sand from the bodies of animals brought from the mountains of Persia or the banks of the Nile for the gladiatorial games."  That's probably pure poetry—I imagine climate change could account for changing plant ranges, too—but it's a lovely thought. 
Stealing History: Tomb Raiders, Smugglers, and the Looting of the Ancient World  by Roger Atwood.  If you haven't read this book, which was published in 2004, you are really missing out on something.  This is an amazing piece of investigative journalism by a very talented writer.  Early in the book, Atwood, a former Reuters reporter, accompanies a group of huaqueros, or professional grave robbers, on a looting foray in southern Peru.  I couldn't put this down.  I've seen myself what the huaqueros have done to major sites in southern Peru—some look as if an army had mortared them—but this is the first detailed account I've read of the guys doing all the damage.
Khubilai Khan's Lost Fleet: In Search of a Legendary Armada by James Delgado.  Delgado, as you may know, is a marine archaeologist and the current president of the Institute of Nautical Archaeology in Texas.  Among many other things, he's an entertaining story-teller, and in this new book he regales us with the tale of the fleet that Khubilai Khan sent to invade Japan. It's a book about hubris, a divine wind, and a terrible defeat, and it's packed with fascinating details.  I particularly relished Delgado's account of how a team of Japanese archaeologists pieced together the fate of the invasion force.
The World Without Us by Alan Weisman.  Rather than delving into the past, Wiesman looks to an imagined future—a future suddenly swept clean of all living human beings.  He then methodically traces, like the good journalist he is, what would happen to places like New York City, as they reverted to ruin and wildness.  Within short order, Manhattan's subway tunnels would fill with water, streets would crater and a river would roar down Lexington Avenue:  in other words, New York would be well on its way to becoming a very eerie archaeological site, or, to put a more positive spin on it,  exactly the kind of place that Christopher Woodward writes about so evocatively. 
Happy holidays,  everyone!   
Comments posted here do not represent the views or policies of the Archaeological Institute of America.