Museums and Making Amends
by Heather Pringle
June 23, 2008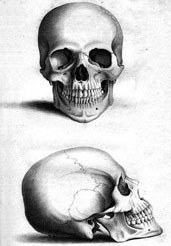 A thoughtful new paper I've just read on the ethical treatment of human remains in museums has reminded me forcefully this week of a story I heard several years ago.  Let me tell you the story first, and then I'll get to the paper.
           In the early 90s, I was writing a magazine article about the revival of medicine-bundle ceremonies on the Blackfeet reserve in Montana, and I was chatting with an elder, Buster Yellow Kidney, at his home near Browning.  Buster was a born teacher and in the midst of our conversation, he told me a story about the anthropologists who had visited the Blackfeet cemetery in the early twentieth century.  According to Buster, they had come in the middle of the night, wearing long coats with many inner pockets.  Digging graves by the light of a small lantern, they had stuffed femurs and skulls into their coats and then driven off.  Buster still remembered the deep shock of going to the cemetery the next day, and seeing empty holes where his aunts and uncles had once been laid to rest. Haunted by this for decades,  he had eventually traveled to the Field Museum to arrange for the reburial of his ancestors. 
         I was reminded of this story when I read Tiffany Jenkins' new article in Mortality, a scientific journal devoted to the study of death and dying.  Jenkins has neatly summarized the complex and often heated debate between aboriginal groups who yearn for the repatriation of their ancestors' remains and physical anthropologists who desire to preserve museum collections of bones for scientific research. She has also interviewed 34 museum professionals in Britain to suss out their private views on repatriation and the role of museums.
         Jenkins thinks that we are at last seeing a kind of seismic shift in thinking in British institutions when it comes to the emotional issue of human remains.  Museums in the U.K., she suggests, are increasingly moving away from the single-minded pursuit of knowledge.  Instead, many curators are now actively embracing another pressing role: healing deep wounds in aboriginal societies by returning their ancestor's bones. One senior museum professional told her, for example, that he believed "every Aboriginal remains that was taken between 150-170 years ago should be returned full stop.  I mean, you know they were wronged."
         I think that this is an immensely encouraging sign for the future. The time of heel-dragging on this vital issue in the world's major museums could well be drawing to a close.
Comments posted here do not represent the views or policies of the Archaeological Institute of America.