Massacre of the Innocents
by Heather Pringle
December 12, 2008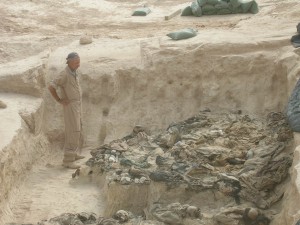 I was stunned this week to see how little coverage a major story out of Iraq received in the world's newpapers and online media.  I know many people are tired of reading about Iraq and the horrors visited upon its people, but I think we all need to hear this story.  It involves despicable crimes, cold-blooded killers and a small team of archaeologists who risked their lives in Iraq to excavate the evidence.  This week the Iraqi High Tribunal put their evidence to good use, convicting some of the perpetrators. 
A little history first.  In August 1990, the Iraqi government led by Saddam Hussein mounted a surprise invasion of its oil-rich neighbor, Kuwait, and announced its annexation.  So the United Nations authorized an international coalition to expel the Iraqi forces, and in January 1991, Operation Desert Storm began.   A month later,  when the fighting was pretty much over,  President George H.W. Bush called upon the Iraqi people in a radio broadcast "to take matters into their own hands and force Saddam Hussein, the dictator,  to step aside…." Many of Iraq's Shi'a Muslims took the president's advice.  They revolted openly, convinced that the coalition would soon invade Iraq and depose Hussein. 
But the coalition turned back at the Iraqi border.   And Hussein and his senior officials, sensing weakness in the international community, took a  terrible vengeance on the Shi'a, arranging for the massacre of somewhere between 30,000 to 180,000 people.  The killings took a wide variety of forms.  Sometimes Hussein's forces would capture ten to fifteen young Shi'a males in a town,  drive them out into the dessert,  and execute them at the edge of a shallow grave.  Other times, as one U.S. Marine investigator, Colonel Alvin Schmidt, told me,  they staged public executions.  "They'd bring crowds out to watch, and they'd execute entire families and bury them under sidewalks near a mosque," said Schmidt. "So every time you went past this sidewalk, you knew that this is what was going to happen to you if you went against Saddam Hussein." 
In 2003, when the Second Gulf War was over, Iraq's new government decided to investigate the crimes of the former regime.  To the assist Iraqi prosecutors, a team of international forensic experts led by a U.S. Army Corps of Engineers archaeologist, Michael Trimble,  began digging some of Iraq's mass graves.  Risking their lives at the height of the insurgency, the archaeologists, physical anthropologists, crime-scene photographers and evidence managers spent long weeks in the field,  excavating mass graves in Maysan province and elsewhere, mapping and recording the bodies and airlifting them out to a secret laboratory near Baghdad.  There, a team of forensic analysts sifted through the victims' clothing and personal effects in search of identification,  examined and x-rayed the  bones,  and reconstructed the executions in chilling detail. 
Last year, the team's detailed evidence helped convict five senior Iraqi leaders of crimes against humanity and war crimes against Iraq's Kurds.  (Readers interested in learning more might want to check out the new January/February issue of Archaeology, which will hit the newsstands next week.  There I have written at length about the team and their work on the massive Kurdish case.)  Now,  this past week,  the team's evidence assisted prosecutors in convicting the principle organizers of the Shi'ite massacres, including Saddam Hussein's cousin,  Al Hassan al-Majid al-Tikriti—better known as Chemical Ali—and Abdul Ghani Abdul Ghafour, a senior Ba'ath party official. 
Many of the team members are still haunted by what they saw in those mass graves—young children clinging to their mothers, women cradling babies in their arms,  primary-school boys carrying makeshift water pistols to the grave.  I don't think we can ever afford to turn away or tune out of this kind of news.   Mass graves are very dark places:  they desperately need the light of day. 
Photo courtesy of US Army Corps of Engineers, St. Louis District.
Comments posted here do not represent the views or policies of the Archaeological Institute of America.