Mapping the Mongol Empire
by Heather Pringle
June 16, 2008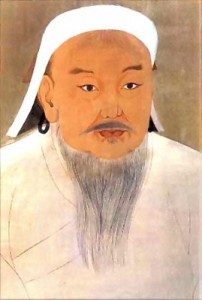 A few weeks back, when I was in Copenhagen, I had a fascinating conversation over dinner with a young Dane pursuing a magnificent obsession. For years, he had read everything he could find on Joseph Stalin's grim system of forced labor camps in Siberia and elsewhere—the real Gulag Archipelago. He collected rare books on the subject and even tracked down obscure Russian archival documents on the notorious camp complexes. But my dinner companion was not content to simply amass an encyclopedic knowledge on this mammoth crime against humanity: He wanted to share his knowledge with others. So he had spent months compiling a giant map and annotated entries on the camps in just one of the immense complexes. He planned to post this soon on Google Earth Community.
I had never heard of Google Earth Community before. But the conversation intrigued me, so when I returned from my trip I checked it out. I'm very glad I did. There's a wealth of geographical knowledge there for anyone interested in historical archaeology, and it's dead simple to find. Click on "Community" on the Google Earth homepage and you will find a list of forums, from "Environment and Conservation" to "Huge and Unique." For me, the real winner is "History Illustrated."
Like everything else on the internet, the postings vary greatly in quality and interest. But the best are marvels. I particularly liked the entry for the Mongol Empire. The hard-working creator has compiled a wealth of fascinating geographical info: Google Earth maps showing Genghis Khan's military campaigns, the locations of key cities and sites in Mongol battles and sieges, and the estimated territories of various kingdoms and empires during the period. Much of this is annotated with short, pithy texts. If ever there was a work of love and devotion, this is it. But there were many notable entries, from the life of Hannibal to Shackleton's expedition on the Endurance to Antarctica.
I'd really like to see prehistoric archaeologists jump in now, too, creating their own Google Earth Community forum. I know there's a danger to publishing maps of sites on remote or private lands where looters could easily destroy them. But I think annotated Google Earth maps of well protected sites—say of Ancient Puebloan sites open to the public in national parks—would be incredibly helpful.
It's a brilliant new way of sharing the past with the internet savvy—which is just about everyone these days.
Comments posted here do not represent the views or policies of the Archaeological Institute of America.