Google Earth and A New Generation of Archaeologists
by Heather Pringle
August 27, 2010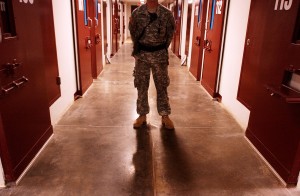 Today, Science magazine published my news article on how archaeologists are now using Google Earth to peer into clandestine worlds.  At Stanford University in Palo Alto, California, Ph.D. student Adrian Myers employed Google Earth satellite images to map the secretive Camp Delta prison at Guantanamo Bay, where the United States government holds suspected terrorists.  Myers' maps are now the only independent, public record of this clandestine prison, and they chart its explosive growth between 2003 and 2008–from simple plywood and chain-link fence structures to concrete super-maximum security facilities.  The latter structures look as if they were built for eternity–a reflection, perhaps, of how long the Bush administration intended to prosecute the War on Terror.
Myers, however,  is not alone in his clever use of Google Earth. Also at Stanford, archaeologist Daniel Contreras and colleague Neil Brodie have employed Google Earth imagery to quantify the vast extent of looting across all of Jordan. And in Australia,  La Trobe University archaeologist David Thomas and his colleagues pored over Google Earth images to survey Afghanistan's Registan Desert –a no-go zone for archaeologists–for sites.
What I wasn't able to mention in my article for Science, however, was a  fascinating conversation that I had with one of the world's foremost experts on remote sensing and archaeology,  Sarah Parcak,  at the University of Alabama, Birmingham.  Parcak is now directing a major new project in Egypt,  surveying for previously unknown sites.  The work begins in her office with marathon sessions with Google Earth and other satellite imagery,  as she draws up a possible laundry list of sites. " If you had told me when I was a kid that I would be able to zoom in from space to look for archaeological sites during my lunch hour,"  she laughed,  "I would have thought you were crazy."
Out in the field, Parcak ground-truths the list of possible sites.  She walks farmers' fields,  using real-time Google Earth on her iPhone to help locate the sites she pinpointed back in Birmingham.  "Google Earth's an incredibly powerful tool," she says.  "I think the sky is the limit in terms of its possibilities."
Downloaded nearly 700 million times, Google Earth is one of the most popular pieces of computer software in the world. Curious kids love playing with it,  zeroing in on sites like the Great Pyramid of Giza or Stonehenge, and then zooming in for a closer look.  "And now they are coming to college and taking courses in remote sensing," says Parcak. "And so many say they are taking them because of Google Earth."
Essentially raised on Google Earth,  college students have little trouble learning to think in 3 D.   And this, Parcak predicts, will have a major effect on the way archaeology is carried out in years to come.  "To heck with thinking outside the box, " she concludes.  "There will be no box for them."
Photo of soldier at Guanatanamo Bay,  courtesy of U.S. Department of Defense
Comments posted here do not represent the views or policies of the Archaeological Institute of America.