Behind the Yellow Crime-Scene Tape
by Heather Pringle
May 22, 2009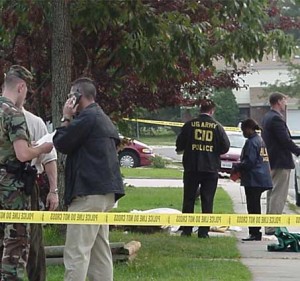 You'd never know it from watching the latest CSI episode, but forensic science is currently laboring under a dark cloud in the United States.  Last February, a blue-ribbon committee from the National Research Council issued a troubling report, citing "serious deficiencies" in the way many forensic scientists now investigate crimes.   In one instance, a wrongly identified fingerprint led to the arrest of an innocent man–an Oregon lawyer—for the 2004 terrorist bombings in Madrid.   And such errors are by no means a rare. 
The report pointed to a number of problems.  I was both intrigued and dismayed to read, for example, that basic forensic techniques such as fingerprint and toolmark analysis evolved in a piecemeal fashion, backed by rather sparse evidence and subjected to little or no detailed  review from the scientific community.   In the case of fingerprint analysis,  experts amassed some evidence showing that fingerprints are unique to an individual, but it now appears that the differences in some prints may be so minute that errors in identification might be inevitable.  To determine the extent of the problem,  the report urges forensic scientists to conduct basic studies on the degree of fingerprint variation across populations so that they can establish confidence limits to their identifications.   
I mention all this because many archaeologists in North America are increasingly eyeing forensic science as a career.  And from where I sit as a science journalist, I think this as a good thing:  archaeologists have skill sets that promise to be extremely helpful in many crime investigations.  Archaeologists are highly trained in the science of excavation, experienced in the recovery of human remains, and accustomed to working with a wide array of specialists, from pollen experts and entomologists to DNA experts. 
In Great Britain, forensic archaeology has been a separate discipline for more than a decade now and is becoming accepted among British police departments.   But here in North America, it's just getting off the ground (no pun intended):  Until recently,  it was just part and parcel of forensic anthropology.   And here's the thing.  Since forensic archaeology is just in its infancy here, it has the opportunity to avoid the mistakes made by many older forensic disciplines.  Rather than developing its methods piecemeal, it can proceed slowly and cautiously to develop archaeological protocols that,  as  FBI agent Michael Hochrein noted recently at the Society for American Archaeology meeting in Atlanta, "recognize, preserve and document" vital evidence at a crime scene.   
That sounds like a goal well worth struggling long and hard for.  After all, no one wants to see archaeologists helping to put the innocent behind bars.          
I'll be in Bolivia next week, but my colleague Mark Rose will be pinch-hitting here.  Please stay tuned.
Comments posted here do not represent the views or policies of the Archaeological Institute of America.