Applause for Re-Enactors
by Mark Rose
May 29, 2009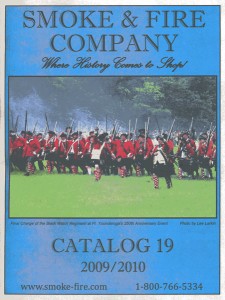 Heather Pringle is in the field, so allow me to share some thoughts about a recent arrival in the mail, the 2009/2010 catalog from Smoke & Fire Company. Historical archaeologists and members of the re-enactor community may be familiar with Smoke & Fire. For others, well, the catalog is a gateway to the material culture of the colonial past in North America, featuring everything from tinware lanterns and redware porringers to clothing and patterns, even 18th-century scissors for do-it-yourselfers. Looking for that special elk-hide sporran or Revolutionary War "spider pan" for cooking over a campfire? They've got it.
I admit that I've had doubts about re-enactors. So I asked archaeologist David Starbuck, a specialist on the Champlain corridor in the 18th century, what he thought. Turns out my preconception of them as mere hobbyists is way off the mark. "I talk with re-enactors all the time while working on the identifications of British material culture," says Starbuck. "I think that almost all of us [archaeologists] have found that re-enactors are hard core when it comes to researching period artifacts: They want to be accurate, they want to wear/utilize exactly what is appropriate to the time period, and they especially want to say that 'so and so dug up a knife just like this.' Re-enactors do follow archaeological discoveries all the time! Re-enactors are inveterate researchers, just like us."
Donlyn Meyers at Smoke & Fire agrees. According to her, re-enactors are the "most avid fans" of archaeologists. For them, details matter. If you are visiting a historic site and overhear people arguing about sleeve lengths or whether pans were riveted or forged, don't worry—it's just re-enactors sweating the details. And if you see someone on the floor in a museum trying to get the perfect photograph of the back of an 18th-century button, there's no need to summon security. Re-enactor.
This enthusiasm has its benefits according to Starbuck. "Most re-enactors are eager to help us identify what we've found and to interpret it for us. I've had many re-enactors show me exactly where something was worn on the body, they know exactly when something entered use (and also when it stopped being used), and they know which things were used by officers vs. ordinary soldiers. And just like archaeologists, they are PASSIONATE about what they do. They are at least as accurate in their artifact identifications as we archaeologists are, and oftentimes they are more accurate."
I asked Meyers how business is these days. Not bad, she says. In part that's because after an initial outlay, for costume and musket, the costs of participating in re-enactments are not high, after all you are camping and cooking over a campfire. Still some items sell better than others, with practical use being one factor (copper tankards do better than pans for separating cream from milk, she notes). Re-enactors range from college age to 70 year-olds, and focus on conflicts from the French and Indian War to the Civil War. The Smoke & Fire News, a monthly print publication, lists events if you want to explore this community first hand (for more information, see their website).
So, if like me, you had thought of these people as "weekend warriors," maybe it is time to reconsider. "The reality is," says Starbuck, "that re-enactors devote all of their spare time to teaching the public about early life styles and weaponry, and they really want to be respected for the quality of their artifact research." That's dedication we can all applaud.
For more about David Starbuck's work in the Champlain corridor, see the website of the Rogers Island Visitors Center in Fort Edward, New York.
Post by AIA Online Editorial Director Mark Rose
Comments posted here do not represent the views or policies of the Archaeological Institute of America.