Interview with Liu Bowen
July 8, 2008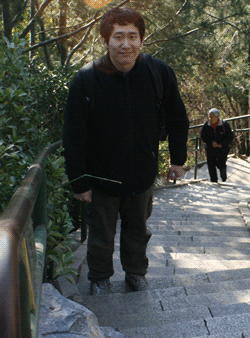 Liu Bowen (Photo by Eti Bonn-Muller)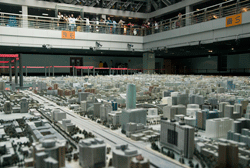 Young Beijingers confront their past and future on every street corner. An installation at the Beijing Planning Exhibition Hall features a scale model of the city that covers more than 3,000 square feet. It shows how the metropolis has expanded over the last few decades, as well as its plans for how "New Beijing" will look. (Photo by Liu Bowen)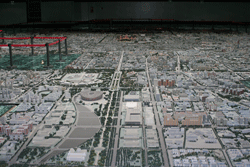 This view of the model shows the site of the 2008 Summer Olympics, including the circular Bird's Nest stadium (foreground, left) and Water Cube swimming pool (across the street, to the right). During construction of the stadia, tombs dating from the Han to the Qing Dynasty (206 B.C.-A.D. 1911) were found in the area. (Photo by Eti Bonn-Muller)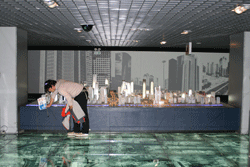 A separate section of the installation is devoted to brand-new futuristic buildings such as the CCTV Tower (center, to the right of the lit road). The city is so big that even where the model ends, glass floor panels continue to show Beijing's layout. (Photo by Eti Bonn-Muller)
How do you think young people in Beijing feel about their past?
There are really many different kinds of young people. But average people--like those who have less education, such as workers or shopkeepers--they really never think about their cultural heritage. They regard places like the Forbidden City as tourist sites, but they never want to research them or know them deeply. I think most young people are not very interested in their past.
Why is that?
Maybe because young people pay more attention to their self-development. They want to go to college, get a higher degree, work at a good company, and earn money. Cultural heritage can't give us the future, the money. So I think the country as a whole is not very balanced right now. Young people just want to work--and they're willing to give up other things.
You told me that most of your friends studied business-related topics, rather than history or archaeology. How is history taught in high school here?
Our textbooks cover how the Communist Party came to power in China. That's the only point. For example, we have five textbooks: one is about ancient history, another two are about foreign history--but very modern--and the other two are about modern Chinese history, from 1840 to now. We only learn about foreign history from the sixteenth century to today.
So you don't study foreign ancient history?
Ancient history, yes--Chinese ancient history.
But not, for instance, Greece, Rome, or Egypt?
No, never*.
*Note: This is changing at Beijing University, where curriculum is currently under development.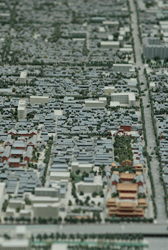 The low-lying, gray-roofed hutong neighborhoods of "Old Beijing" are also depicted in the model. (Photo by Liu Bowen)
That makes it very difficult to look back and truly appreciate your own past.
Yeah. Actually, I think the ancient history textbook tells us only two things. One is that we have a very old history, which is very honest, very glorious--so we should love our nation. The second is that in recent centuries we were harmed by capitalism and foreign influences, and that only the Communist Party can help the people establish a New China and give us a happy life.
So that's the way you still learn today?
Yes, certainly! You can check the textbooks!
And in our college entrance examination, the point is recent history. Ancient history is just kind of acknowledged. You know--it's okay if you don't understand it, as long as you know the date of the Tang Dynasty and who created it, that's enough. But recent people, you should know more about them.
Well, how do you feel about the way history is taught?
I think history is not very respected by the people in this nation, including me. I have always thought that foreign people were probably more interested in our country's history because we have a very long history, which you don't have. America has only 250 years of history, but we have 5,000--so this is kind of glorious.
In a city like Beijing, history is all around you. Do you feel a special connection to the Forbidden City, the Drum Tower, or the Temple of Heaven?
Yes. When I was a child, and as a pupil in school, I went on a lot of trips to the ancient places. Really, I have a lot of memories.
How do you feel about the emergence of "New Beijing"--with its brand-new ultramodern buildings--right in the heart of "Old Beijing"?
"New Beijing" has a lot of meanings. To me, it means more money, more modernization, more balance, and less pollution: all of these things are "New Beijing," our "New Beijing." But everyone defines it differently. In the end, everybody wants to live in better conditions, in a better environment.
You've said that you want to help your country by taking photographs. Do you think your pictures can make a difference?
I want to change society... I want to change to this world...I want to help. But it's not easy. We need to make changes in other areas first. Then, we can devote our abilities to the development of our cultural heritage.
Share