The Antiquities Act Centennial
June 14, 2006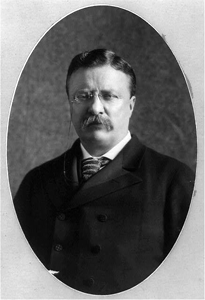 Theodore Roosevelt, ca. 1904 (Library of Congress, LC-USZ6-826) [LARGER IMAGE]
A hundred years ago President Theodore Roosevelt, following his own conservationist beliefs and spurred on by scholarly and public outcry at the destruction of archaeological sites in the Southwest, signed into law An Act for the Preservation of American Antiquities. "No other law has had such a wide-ranging influence on the protection of our nation's cultural and natural heritage," says Francis P. McManamon, chief archaeologist of the National Park Service.
Among the organizations involved in drafting and promoting the legislation was the Archaeological Institute of America (AIA), which in 1904 formed a Committee on the Preservation of the Ruins of American Antiquity. In 1905, Edgar Lee Hewett, while on an AIA fellowship intended to support excavation, instead lobbied congress. The bill passed and Roosevelt signed it on June 8, 1906. Two week earlier, he had signed another bill, one granting a congressional charter to the AIA for "the purpose of promoting archaeological studies by investigation and research in the United States and foreign countries." After his fellowship expired at the end of 1906, Hewett was appointed AIA's director of American archaeology, a new post.
ARCHAEOLOGY, which is published by AIA, has marked the centennial with a number of articles about the Antiquities Act.
Check these external links for more about the Antiquities Act of 1906.


© 2006 by the Archaeological Institute of America
archive.archaeology.org/antiquitiesact/
Share