Saving Afghanistan's Heritage
1998-2008
Following a quarter century of warfare, Afghanistan faces a cultural heritage crisis marked by the looting of the National Museum in 1998 and destruction of the Bamiyan Buddhas in 2001.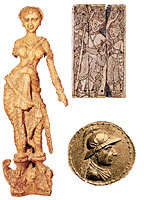 Museum Under Siege (online feature, April 20, 1998)
Efforts to rescue the collections of Afghanistan's National Museum

The Plunder Continues (online feature, May 26, 1998)
An update on the looting of the Kabul Museum

Destructive Frenzy in Afghanistan (online news, March 2, 2001)
International reaction to first reports of pre-Islamic artifacts being destroyed by the Taliban. See also our 1997 report of the Taliban's denial that it would do this.

Cultural Terrorism (newsbrief, May/June 2001)
Afghanistan's fundamentalist Taliban regime's destruction of the Bamiyan Buddhas is universally condemned as cultural terrorism.

Special Report: Plundering Afghanistan (abstract, March/April 2002)
A booming antiquities trade strips the country of its heritage.

The Race to Save Afghan Culture (abstract, May/June 2002)
A Swiss museum tries to protect what remains of Afghanistan's cultural heritage.

Double Standard? (president's letter, May/June 2004)
What has happened to archaeology in Afghanistan while worldwide efforts have been focused on Iraq?

Waking the Buddha (abstract, January/February 2005)
The search for the legendary reclining Buddha at Bamiyan

Tell it to the Marines... (president's letter, November/December 2005)
During the past year the Archaeological Institute of America has begun an innovative program to help educate troops soon to be sent abroad. The program sends experienced lecturers to military bases to teach the basics of Middle Eastern archaeology and the importance of protecting the evidence of past cultures.

Top 10 Discoveries of 2008: Oldest Oil Paintings (feature, January/February 2009)
The world's oldest-known oil paintings were found in a maze of caves in Afghanistan's Bamiyan Valley.
For more information on the cultural heritage crisis in Afghanistan, see
"The Impact of War upon Afghanistan's Cultural Heritage," address of Abdul Wasey Feroozi, director general of the National Institute of Archaeology in Kabul, at the 2004 Annual Meeting of the Archaeological Institute of America

Association for the Protection of Afghan Archaeology is a nonprofit organization dedicated to the Archaeology and Cultural Heritage of Afghanistan.
Share