Kosovo War Damage
Volume 52 Number 4, July/August 1999
by Nikos Axarlis, Spencer P.M. Harrington, and Andrew L. Slayman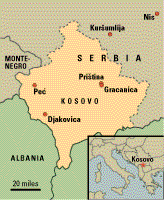 Monuments in Kosovo and Serbia's other provinces have been damaged during the ongoing Balkan war, but the extent of damage and who is responsible are difficult to ascertain. In Kosovo, according to reports collated by the Yugoslav committee of the International Council on Monuments and Sites (ICOMOS), a Byzantine monastery at Gracanica was badly damaged, while an eighteenth-century bridge in Djakovica was destroyed. Elsewhere in Serbia, a medieval Turkish fortress in Nis and the Byzantine Church of the Holy Virgin in Kursumlija are said to have been badly damaged.
ICOMOS Yugoslavia blames NATO bombs and missiles for much of the damage. NATO has reported hitting targets in and around Pristina (just north of Gracanica), Djakovica, and Nis, as well as Pec and other towns where damage was reported. Many of the towns in Kosovo, however, have also seen intense activity by Serb troops. Near Pristina, villages have been looted and the Kosovo Liberation Army has been fighting Serb forces, according to NATO and the U.S. State Department. The London-based Institute for War and Peace Reporting, which has correspondents on the ground, says that Serb forces have largely destroyed Djakovica and Pec and that arsonists damaged a fifteenth-century mosque in Djakovica.
The extent of the damage will become clear only when the war is over and independent observers can again enter Serbia; the responsibility for individual incidents, however, may never be known.


© 1999 by the Archaeological Institute of America
archive.archaeology.org/9907/newsbriefs/kosovo.html
Share