Archaeologists excavate the site of the Ann Jones Inn in 2008. (Courtesy Adam Ford, DIG International)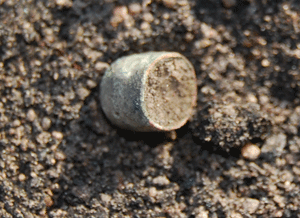 A percussion cap and other munitions used by the Kelly gang were uncovered. (Courtesy Adam Ford, DIG International)
Ned Kelly's life ended on the gallows, but it climaxed at the Ann Jones Inn in Glenrowan in June 1880. Equipped with metal armor made from plows, the four members of the Kelly gang held off the police who peppered the rustic building with shots for hours.
Adam Ford, founder of archaeological consulting firm DIG International, led a 2008 excavation of the site where the inn once stood. The plot had seen three different structures: the first Ann Jones Inn, which burned down at the end of the siege; a second hotel built by Jones, which was also lost to fire; and a brick wine shanty (a sort of unlicensed watering hole) that was demolished in the 1970s. Ford worried that construction and decades of artifact collection—which began feverishly immediately after the siege—would leave little evidence behind. "I was quite fearful that I'd get there and there wouldn't be any remains left," Ford says. But the site was surprisingly intact: Around and beneath the foundations of the wine shanty were carbonized wall and floor timbers, bits of ceramic and melted glass, and, most importantly, nearly 100 pieces of ammunition.
Ford and his team approached the site as a battlefield, looking for patterns that might say something about the shootout between the gang and police. The archaeologists found a line of some 40 deformed bullets where there had been a wall separating the inn's front and back rooms. Behind that wall, in just one square yard of space, the team found approximately 30 cartridges and percussion caps, including one that matched a gun said to be Kelly's. The pattern suggests that the gang found little protection in the inn's three front rooms, so they retreated to the back rooms to reload before coming out to resume firing. "We were able to identify the actual movements, and perhaps even the motivations, of the members of the Kelly gang in their final hours," says Ford. "It is a powerful vision of these four young men who, for whatever reason, had got themselves into a situation they were never going to get out of."
For more information on Australia's convict period, go to archive.archaeology.org/convict
Samir S. Patel is deputy editor at ARCHAEOLOGY.
Share