The surprises of China's largest sculpture cache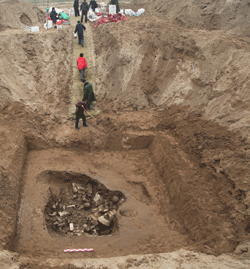 Archaeologists work at a burial pit on the outskirts of the ancient city of Yecheng containing almost 3,000 Buddha sculptures that date to between 1,100 and 1,600 years ago. Though similar pits have been found elsewhere in China, this is the largest of its kind yet discovered. (Courtesy Institute of Archaeology, Chinese Academy of Social Sciences)
Early this year, on the outskirts of Beiwuzhuang village in northern China's Hebei Province, someone started dredging a riverbed. It's not an unusual occurrence in China, a land of fast development and silted channels. But when local archaeologists heard about this particular effort, they came running. "In 2004, our team had discovered a few fragments of Buddhist statues in the riverbed," says He Liqun, a member of the archaeological team working there. "So ever since, this had been an area of concern."
China's archaeological regulations tend to favor protection over excavation, so the archaeologists had let the riverbank be in 2004. But the dredging made excavation a priority, so this time the team arrived ready to begin exploratory drilling. In January 2012, they hit what He calls a "burial pit"—a roughly dug hole in the ground, five feet deep and 11 feet wide. The burial pit contained no coffins or bones, but rather the largest cache of Buddhist sculptures ever discovered in China. Almost 3,000 (2,895, to be exact) were excavated at the site—some of white marble, others of limestone or ceramic—covering more than 500 years, from the Northern Wei Dynasty (A.D. 386–534/35) into the Tang Dynasty (A.D. 618–907). The sculptures offer archaeologists a glimpse into the place of religion in ancient China and into the politics and history of one of its most influential cities.

To read more, find ARCHAEOLOGY in your local newsstand or bookstore, or click here to buy a copy of the issue online. And if you'd like to receive ARCHAEOLOGY in your mailbox, click here to subscribe.
Lauren Hilgers is a freelance writer based in Shanghai.
Share