The untold story of Gorée Island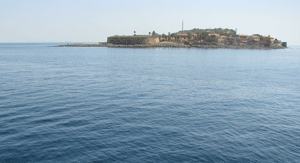 A short ferry ride from the busy capital city of Dakar, Gorée Island was, from the 15th to 19th centuries, a prominent location in both the transatlantic and domestic slave trade. (Roger Atwood)
Sitting like a moored barge in Dakar's harbor, Gorée Island lies so close to the mainland that, on quiet nights, people there can hear the busy capital city's car horns. A 25-minute ferry ride and a world away, the car-free island's 1,000 residents live in rambling old houses made of clay and timbers, and stroll through alleyways and shady plazas. In 1853, Senegalese-born French-educated priest David Boilat wrote about Gorée, "Its location is most agreeable," noting the island's uninterrupted view of the African coast to the north and east, and "to the south, the immense ocean stretching unbroken to the horizon." Yet Gorée's scenic appeal and relaxed pace has an uneasy, haunting edge, for everywhere there are reminders of its much darker past.
For four centuries, from the mid-1400s to the time of the American Civil War, this 42-acre island off Africa's westernmost tip was a port of call for European slave ships and a bargaining chip among the nations that controlled the slave trade. The very first Europeans known to have sighted Gorée were Portuguese explorers who came in search of slaves and other commodities. Among these was ship's captain Lançarote de Freitas, who arrived in 1445. De Freitas sent a crewman ashore in a canoe to leave some tokens of friendship: a cake, a mirror, and a piece of paper upon which was drawn a cross. When a crewman ventured back to the island, the inhabitants had destroyed the cake, broken the mirror, and ripped the paper in two. The two sides then exchanged fire—the islanders with poisoned arrows, the Portuguese with guns—according to Portuguese colonial accounts cited today at the island's historical museum.
Thus began the islet's traumatic relationship with the West. Around 1627, the Dutch bought Gorée from local fishermen in exchange for bags of trinkets and nails. And later, the British and the French swapped rule over the island at least nine times before the French took definitive control by 1800. A jumpingoff point for the Atlantic slave trade, the island was the last stop for what archaeologists estimate were tens of thousands of enslaved African men and women. They were a small portion of the roughly 9.5 million people sent against their will to the Americas from all over Africa between 1451 and 1870, according to a widely cited census published by Johns Hopkins University historian Philip Curtin.

To read more, find ARCHAEOLOGY in your local newsstand or bookstore, or click here to buy a copy of the issue online. And if you'd like to receive ARCHAEOLOGY in your mailbox, click here to subscribe.
Roger Atwood is a contributing editor at ARCHAEOLOGY.
Share