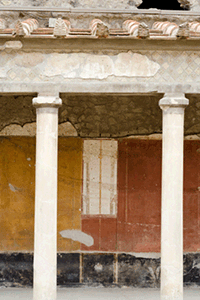 (iStockphoto)
Notwithstanding a global recession, people are still traveling and they are still visiting museums. Fortunately, museums have continued to mount serious exhibitions devoted to archaeology, and the public is showing its clear support. In the annual survey recently published by The Art Newspaper, the top 10 shows in 2011 featuring antiquities attracted more than 4.5 million visitors, with some averaging nearly 4,000 per day!
The range of subjects was impressive. And it was a worldwide phenomenon. An exhibit on Arabia could be seen at the State Hermitage Museum in St. Petersburg; Greek sculpture was on view at the National Museum of Western Art in Tokyo; the Musée Quai Branly in Paris hosted The Maya: From Dawn to Dusk; Washington, D.C.'s Arthur M. Sackler Gallery featured The Gods of Angkor. Archaeological discoveries fascinated a public around the globe.
Serious exhibitions are years in the making, and the best of them embody new research and interpretation. Three years out, American scholars including John Clarke of the University of Texas and Elaine Gazda of the University of Michigan are collaborating with Italian archaeologists to organize an exhibition on a luxurious Roman villa in Oplontis, near Pompeii. The show will display works previously unseen in America. Beyond their visual beauty and rarity, the finds of sculpture, wall paintings, ceramics, and glass will be an impetus for study, publication, and classroom discussion. This exhibition will be sure to attract a diverse public when it opens at the Kelsey Museum of Archaeology in Ann Arbor, and then travels to the Blanton Museum of Art in Austin, the Museum of the Rockies in Bozeman, and elsewhere yet to be determined.
Similarly, the Terracotta Warriors exhibit currently in New York City brings to American audiences the spectacular life-size figures that represent one of the major archaeological discoveries of the last century. Curator Chen Shen has included many nonmilitary figures such as civic officials, acrobats, and animals in the exhibition in order to dispel the widespread—but erroneous—notion that China's first emperor took only an army to his grave. Rather, the emperor sought to re-create the entire world that he ruled.
We cheer our colleagues in the museum world. Their success affirms the valuable role of museums in communicating all the stories that archaeology has to tell us.
Elizabeth Bartman is the president of the Archaeological Institute of America.
Share