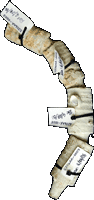 (Courtesy Sebastiano Tusa)
Italian archaeologists have uncovered evidence of smuggling between North Africa and Italy on a third-century A.D. shipwreck off the west coast of Sicily. The most complete Roman ship ever found, the 52-by-16-foot merchant vessel was carrying amphorae filled with walnuts, figs, olives, wine, oil, and fish sauce from Tunisia to Rome when it sank.
Intriguingly, among the ship's official cargo were hidden stashes of so-called tubi fittili (fictile tubes). According to Sebastiano Tusa, Sicily's Superintendent of the Office of the Sea, "Basically they are small terracotta cylinders open at one end and closed at the other. Rows of these hollow tiles were used in vaulting and other construction."
The tubes, which were used from the mid-Imperial era to the end of the Byzantine period, worked by fitting the narrow end, or nozzle, of one tile into the larger end of another. Because they were joined loosely, series of the lightweight tiles could be arranged in curves, making it easier to form arches and vaults.
In North Africa, especially Tunisia, the valuable tubes were manufactured and cost a quarter of what builders paid for them in Rome. "To augment their poor salaries, sailors bought these vaulting tubes cheaper in Africa, hid them everywhere on the ship, and resold them in Rome," Tusa explains.
Share