An archaeologist's daughter surveys the rich cultural heritage of northern Mexico—and the impact of violence on researchers working there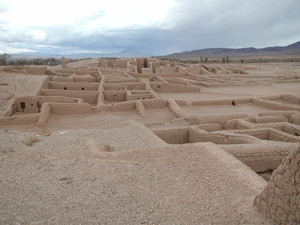 Paquimé (also called Casas Grandes) is one of northern Mexico's largest and most well-studied sites. (Courtesy Randall McGuire, Binghamton University)
As the young daughter of an archaeologist in the late 1990s, I was raised to understand that Indiana Jones is no more real than Luke Skywalker. I had been on digs and spent hours in my father's lab where I concluded that, no matter what my classmates thought, my father was just another boring scientist, even if he did wear cowboy boots and skipped the lab coat. Adolescent that I was, I was similarly unimpressed with his work south of the U.S. border in northern Mexico. I knew nothing of the lawless Mexico that people saw on television because my own visits were graced with warm tortillas, birthday piñatas, kind faces, and Coca-Cola in tiny glass bottles. It was at the Thanksgiving table, then, when I was 14, that I first discovered my father's job might actually be dangerous.
During the holiday season, my family always hosted the many archaeology graduate students from Binghamton University in upstate New York, where my father, Randall McGuire, was and still is a professor. After the dinner of turkey with all the trimmings was cleared, my father would go to the liquor cabinet and produce a bottle of fine tequila. Then he and his students would share stories from the field long into the night.
This particular evening, in 1997, they were enthusiastically recounting the story of my father's Mexican colleague Elisa Villalpando's confrontation with a drug lord from the Sinaloan cartel, Mexico's largest organized crime operation. Villalpando is an archaeologist with Mexico's National Institute of Anthropology and History (INAH) who has co-led several excavations with my father at the Cerro de Trincheras site in the northwest Mexican state of Sonora since the 1980s. According to the story, the narco (drug trafficker) had planned to level a section of a site called La Playa, located six miles north of Cerro de Trincheras, to grow buffel grass for a cattle ranch. Villalpando had sent word to the narco through one of his workers that he needed to leave the site alone, in short, to proMexico's heritage. Days later, the narco showed up with a gunman at Villalpando's dig house in the town of Trincheras, roughly 100 miles south of the Arizona border. His message was simple—he would do what he wanted with the land.
La Playa is the site of one of the earliest agricultural communities in the southwestern United States and northern Mexico. It covers roughly half a square mile and dates back 4,000 years to the Archaic period, when people first made the transition from hunting and gathering to agriculture. In Mexico, archaeological sites are owned by the federal government. The students said Villalpando informed the narco of this fact and also appealed to the Mexican courts to issue an injunction. In addition, she cleverly courted media attention from both Mexican and American outlets, which helped ensure the safety of her and her team. After a legal process that took more than six months, La Playa became the first archaeological site in Mexico without the presence of pyramids or large monuments to receive federally enforced protection. My father recalled the drug lord going on television to "magnanimously" turn the land over to the Mexican people.
Archaeologists working in northern Mexico have always maintained an uneasy truce with the narcos, a reality I only became aware of that Thanksgiving in 1997. The situation deteriorated markedly in the years following as the drug trade heated up. In December 2006, upon assuming the presidency of Mexico, Felipe Calderón declared war on the drug cartels operating within and across his country's borders. As cartels jockeyed for control of Mexico's borders with U.S. states, the Mexican army struggled to maintain order. Consequences of the combat included an escalation of violence among drug traffickers, who joined up to form factions, such as the Zetas. Since then, American news coverage of the region has been replete with images of dead bodies and men in ski masks. Reports of executions, kidnapping, and extortion surface daily. According to a June 2011 report by the United States Senate Caucus on International Narcotics Control, nearly 35,000 people have been killed by organized crime since Calderón took office, with more than 15,000 deaths in 2010. The Mexican government estimated that roughly 1,400 lives were taken each month from January to September 2011, as reported by the private intelligence company Stratfor.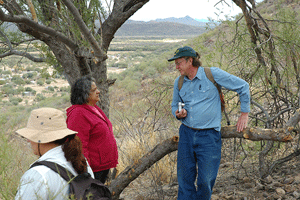 The author's father, Randall McGuire (right), and Elisa Villalpando chat at Cerro de Trincheras, a site where they have worked since the 1980s. (Courtesy Randall McGuire, Binghamton University)
Researchers have not been expressly targeted in outbreaks of violence, but the environment is a perilous one. Many find themselves in proximity to danger, fearful of being caught in the crossfire. Despite this situation, a few archaeologists are continuing with the projects they began decades ago. They have, however, had to adapt to the new rules of their surroundings. The violence is having an impact on the archaeology of a part of North America that already has a history of being ignored.
Northern Mexico remains largely unstudied despite being situated between two of the most intensively researched areas in North America—the southwestern United States and the Meso-american culture area, which extends from central Mexico to Costa Rica's Pacific coast. El Norte de México, as Mexican archaeologists sometimes call it, extends from Mesoamerica's northern fringe to the U.S. border, encompassing the northern reaches of Sinaloa and Durango, and almost the entirety of Chihuahua and Sonora. While located in Mexico, archaeological sites in these states are considered part of the Southwest culture area, which also includes New Mexico, Arizona, southeast Utah, southwest Colorado, and Texas west of the Pecos River.
Paul Minnis, an archaeologist from the University of Oklahoma, who has been working for 25 years in Chihuahua (which borders New Mexico and trans-Pecos Texas), says the disparity between researchers in the American sections of the Southwest culture area and those in the northern Mexican states is stark. "In Chihuahua, you can usually count all the project directors on one hand. In New Mexico and Arizona, there are hundreds of archaeologists. In the state of Durango, which is a large state directly south of Chihuahua, there are exactly two Ph.D. archaeologists working."
El Norte de México's inclusion in the Southwest may be partly to blame for its lack of study. Mexican archaeologists tend to focus on Mesoamerica, as its civilizations and massive monuments are dramatically more central to the country's cultural identity. The sites in northern Mexico, by contrast, are less grand and were inhabited primarily by bands of foragers, some of which developed into 10 loosely connected agricultural communities and cultural groups. According to Villalpando, "In northern Mexico, evidence of past societies is subtle. In general, Mesoamerican archaeologists don't analyze plain ceramics or lithic debris, which are absolutely essential in our study area. It is hard to recognize a campsite or even a village if your training is with mounds or planned settlements."
The evidence in the area, however, along with the remains in Mesoamerica, is important to the pre-Hispanic history of Mexico, Villalpando adds. The research she and others conduct in northern Mexico offers the public a better understanding of the diversity that existed in the country's past, as well as in its present. My father adds, "Our attempts to understand prehistoric developments on a continental scale and the relationships between the Southwest and Mesoamerica are severely compromised by this lack of research."
Much of what is known stems from work beginning in the late 1950s by archaeologist Charles C. Di Peso of the Amerind Foundation, a private, nonprofit museum dedicated to preserving Native American cultures and history. He characterized northern Mexico's largest site, Paquimé (also called Casas Grandes), as an indisputable link between the Southwest and Mesoamerica. Located in northwestern Chihuahua, it was one of the area's preeminent pre-Hispanic towns. Di Peso believed it had been established by Mesoamericans who had traveled northward.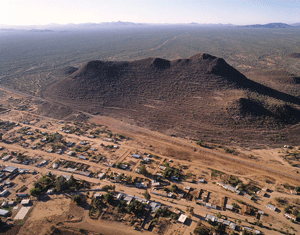 The site of Cerro de Trincheras, in Sonora, consists of 900 terraces built into a hill of black basaltic rock. It once was inhabited by up to 2,000 people. (©Adriel Heisey)
Paquimé's Puebloan-style apartments typified sites found in the American Southwest and are believed to have housed several thousand people of the so-called Chihuahua culture (also referred to as Casas Grandes culture), including elites, artisans, and farmers. Di Peso's team made several finds that are typical to Mesoamerica, including I-shaped ball courts—the only ones of their kind found in Chihuahua culture—and evidence of the breeding of scarlet macaws, which are native to Mesoamerica. Further, small quantities of copper bells, which were produced in Mesoamerica, and several ceramics featuring Mesoamerican iconography were also found.
Paquimé peaked during the Medio period, which ran from 1250 to 1450 and was characterized by the construction of continuous, multistory adobe apartments and the manufacture of pottery with black and red paint on off-white to brown backgrounds. But later research disputes Di Peso's claim that it was the epicenter of Chihuahua culture. "While no one doubts that Paquimé eventually became a powerful center, it seems to have done this only after most of the region had already adopted cultural elements emblematic of the Medio period," says Jerimy Cunningham, an archaeologist from the University of Lethbridge in Alberta, Canada. Evidence of polychrome pottery in the region surrounding Paquimé prior to the height of its power, for instance, suggests that the site may not have been the Mesoamerican trading post Di Peso had thought, but rather a product of the culture that surrounded it.
Jane Kelley, an archaeologist from the University of Calgary, began the Chihuahua Archaeology Project (PAC) 20 years ago, digging at sites due south of Paquimé, between the Santa Maria River Valley to the west and the Santa Clara River Valley to the east. Her work suggests there was widespread occupation in the area prior to the city's ascendance. Using ground-penetrating radar at various sites in the region, she and her team revealed the presence of numerous pithouses dating back to the Viejo period (600 to 1250), which immediately preceded the Medio. Further, Kelley reports that her work found little evidence of Mesoamerican goods at larger sites in west central Chihuahua, which casts doubt on speculated trade routes from Mesoamerica to Paquimé and into the American Southwest. A copper bell found at the Rancho San Juan site in the Babícora Basin, approximately 75 miles south of Paquimé, is one of only three reportedly found in the area.
Kelley speculates that there may have been an alternate trade route along or through the Sierra Madre Occidental mountain range that edges Chihuahua's western border with Sonora and Sinaloa. The escalating violence in Chihuahua, however, is limiting archaeologists' access to sites and thus a way for Kelley to confirm her hypothesis.
"In many ways, I think we're on the verge of a really productive period in Chihuahua archaeology, but it's being stifled by the violence," says Cunningham, who has worked in the PAC region since 1992. He originally wanted to study the highlands west of the Santa Maria River Valley, but he settled on focusing his research on the comparatively safer Santa Clara River Valley where, he explains, "up until 2010, there hadn't been a north-south road, so it was relatively untouched by trafficking."
Kelley, however, pressed on in the Santa Maria River Valley, keeping her in relative proximity to danger. Upon arriving in the town of Oscar Soto Maynez, 120 miles south of Paquimé, for the 2010 dig season, her crew discovered that several houses had been firebombed, reportedly by two cartels vying for control of the town. Soon after, Kelley was warned by locals that sicarios, or hit men often in the employ of the narcos, would be in town for municipal elections looking for women both "willing or unwilling." She chose to send her female crewmembers to Cunningham's camp in the Santa Clara River Valley.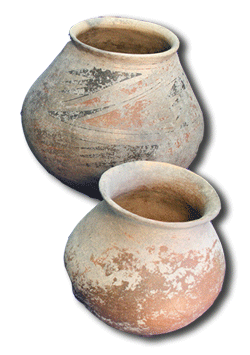 Chihuahua pottery (left) is identified by its tricolor motif of red and black on an offwhite or brown background. Trincheras ceramics (below) are relatively plain. (Courtesy Randall McGuire, Binghamton University)
One of the crewmembers in the field with Kelley that season was Tanya Chiykowski, one of my father's current graduate students at Binghamton University. Violence in the region caused her to alter her Ph.D. dissertation plans to investigate a series of three hilltop settlements in the Santa Maria River Valley. When surveying the area indicated there were markedly few artifacts, she theorized the sites might have been constructed as defensive housing rather than for continuous domestic occupation.
The unpredictable nature of the violence in 2010 caused Chiykowski to reconsider her thesis subject. That summer there was a shooting on the main street of Namiquipa, about 15 miles north of Oscar Soto Maynez. The police forces in two nearby towns had disbanded and fled. "I realized that if I went forward, I was really committed," she says. "I didn't want to risk making bad safety decisions because I had left myself no other options." She decided to start her thesis work from scratch and soon shifted her focus 350 miles west to the site of Cerro de Trincheras in Sonora, where my father and Elisa Villalpando have worked for more than 20 years.
She is now working on unraveling a mystery involving two types of simple, everyday-use pottery found by my father and Villalpando during their excavations. In the late 1200s, a community of Hohokam, who lived primarily in what is now southern Arizona, moved into the neighboring Altar Valley, just northwest of the site, tripling the population of the region. The ceramics were made using two distinctive techniques, from both the local Trincheras culture and the immigrant Hohokam. Interestingly, there is a complete absence of Trincheras tradition ceramics in the Altar Valley after the Hohokam occupation in the late 1200s, which indicates that these two communities were not trading with each other. Chiykowski's new research aims to determine if the Hohokam pottery found at Cerro de Trincheras was actually made by female captives, by examining whether the Hohokam-style ceramics were made with clay composed of Trincheras soil. If so, it is likely the Hohokam potters were prisoners.
Over the course of three decades working at Cerro de Trincheras, my father and Villalpando have attempted to determine how the Trincheras and Hohokam people coexisted during the so-called El Cerro phase of Trincheras culture, from 1300 to 1450, when the site was first constructed. Cerro de Trincheras consists of more than 900 terraces built on the face of an isolated hill of black basaltic rock overlooking the small, dusty, modern-day town of Trincheras. Spanish military captain Juan Mateo Manje named the site, which means "fortified hill," when he visited it in 1694.
Cerro de Trincheras was likely continuously occupied by 1,000 to 2,000 people over those 150 years. My father and Villalpando's excavations have turned up more than 3 million artifacts, including ceramic sherds and pieces of shell. Remains of corn, corn pollen, squash and cotton seeds, charred beans, and agave remnants indicate the inhabitants were irrigation agriculturalists who dug canals three to four feet deep from the Magdalena River about a halfmile to the north in order to sustain their crops. The Trincheras people were major suppliers of shell jewelry in the Southwest culture area as evidenced by finds such as ground and chipped stone that was used to cut, polish, and shape shells. They probably traveled more than 60 miles to collect 20 or more types of marine shell from the Gulf of California.
In 2006, my father and Villalpando used geographic information systems (GIS) technology to conduct a survey of Cerro de Trincheras. They found that the terraces and walls were placed in a way that would have funneled attackers, possibly the newly arrived Hohokam, into a few routes blocked with defensive walls. "We have no direct evidence of violence," my father says. "This is in part because the Trincheras people cremated their dead, so we would not find evidence of it on the bones." In order to fully understand the relationship of the people of Cerro de Trincheras and the Hohokam culture, further research needs to be conducted in the Altar Valley.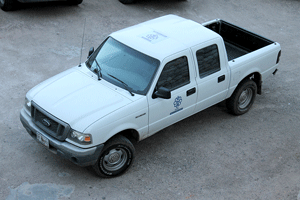 Archaeologists drive trucks bearing Mexico's National Institute of Anthropology and History decals so they can be easily identified. (Courtesy Randall McGuire, Binghamton University)
Unfortunately, in January 2009, the valley became impassible during a standoff between the Sinaloa and Beltrán-Leyva cartels that lasted until around February 2011, when the Mexican army was able to regain control. Only recently have my father's longtime friends who live in the area told him that he will now be able to visit with relative safety. However, while the area continues to improve, it is still too unstable for him to be able to begin a dig season.
The violence does not inundate the whole of northern Mexico; rather, it ebbs and flows through the region over time. Cartels primarily assert their dominance in urban areas. The actual business of producing and transporting drugs largely takes place on back roads where military checkpoints are less likely to be located. These remote areas, however, often host undisturbed sites that archaeologists have identified for excavation. So archaeologists take precautions to avoid being caught in the crossfire between narcos and the military: Field seasons are often planned for the winter months, when the marijuana harvest is over and drug activity is minimal. In Chihuahua, researchers such as Kelley and Cunningham drive small Toyota trucks that won't be easily mistaken for the Americanmade white SUVs that narcos favor. In Sonora, archaeologists frequently place magnetic signs with the INAH logo on the roofs of their trucks so that military helicopters circling above them can easily identify them as nonthreatening civilians.
Whereas foreign archaeologists lament the difficulties that impact their work, they ultimately have a choice as to whether to conduct their projects in northern Mexico or elsewhere. Their Mexican counterparts and the community members who help with their excavations, however, do not have that luxury. "They're the real victims of the violence," says Cunningham. "They're the ones whose family members are caught in the crossfire and who perpetually have to live in fear of not just the narcos, but also the measures taken by the Mexican and American governments to counteract them."
Archaeology at its best fosters the inclusion of the community that lives around sites where work is ongoing. "The economy, especially the tourist economy, is just dead," says Paul Minnis, depriving the people who live in the area of an economic lifeline and often pushing them into the drug trade. Excavations offer another option. "We can't stop doing the things that need to be done because of the drug dealers—that will make it a more difficult situation for the whole of Mexico," Villalpando says. "If we stop doing archaeology, we let them take control of everything."
Kathleen McGuire is a freelance writer based in Pittsburgh, Pennsylvania.
Share