At the site of Iklaina, excavations are revealing new evidence of how the Mycenaean state functioned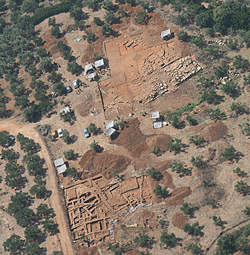 An aerial view of the site of Iklaina near Pylos, Greece. (Courtesy of the Iklaina Project)
Pylos, in Greece's southwestern Peloponnese, is known for its miles of soft sandy beaches, rocky islets soaring out of the water marking the edges of the Bay of Navarino, and the mountains that cut it off from the rest of Greece. The surrounding region, known as Messenia, is also home to dozens of archaeological sites. Since the nineteenth century, Messenia has attracted archaeologists hoping to uncover remains of Greece's Mycenaean age, the period from approximately 1650 to 1100 B.C., famous for such mythical sagas as the Trojan War. Among them have been Heinrich Schliemann, who came from Germany to search the area in vain to locate a royal settlement, and American Carl Blegen, who excavated the Palace of Nestor in Pylos in 1939. Fifteen years later, in 1954, Blegen's colleague, Greek archaeologist Spyridon Marinatos, went hiking in the hills above Pylos. There, near the small modern town of Iklaina, he came upon the remains of a structure with massive walls, surrounded by large deposits of pottery. The Iklaina site was overgrown with olive groves and the terrain was difficult to traverse, but a brief trial excavation suggested the existence of an important site. However, other work beckoned Marinatos and it would remain buried for decades.


To read more, find ARCHAEOLOGY in your local newsstand or bookstore, or click here to buy a copy of the issue online. And if you'd like to receive ARCHAEOLOGY in your mailbox, click here to subscribe.
Amanda Summer is an archaeologist and writer who lives in St. Louis, Missouri.
Share