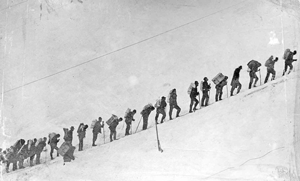 (top: Wikimedia Commons; bottom: Candy Waugaman Collection Klondike Gold Rush National Historical Park Library SS-126-8831)
In the winter of 1897-1898, word spread like wildfire that gold had been discovered along the Klondike River in Canada's Yukon Territory. Men and women from all over the world converged on the area, and two small settlements, Skagway and Dyea (both in Alaska), became competing boomtowns, each claiming it had the easier path to the gold fields. The route of choice for many "stampeders" was the 33-mile-long Chilkoot Trail that began at Dyea and bypassed—so its boosters claimed—the crime of Skagway and the "gridlock" of its White Pass Trail. Some 25,000 to 30,000 people passed through Dyea and traveled the Chilkoot, portions of which were so narrow that sleds and pack animals were almost useless. The worst part of the trail was known as the "Golden Stairs"—1,500 steep steps carved out of ice and snow. The trail became littered with goods, the bones of pack animals, and other detritus. Though today Skagway is a historic town of about 800, Dyea is a ghost town. Karl Gurcke, historian and archaeologist of the Klondike Gold Rush National Historical Park, and his colleague Theresa Thibault say that Dyea is a major archaeological resource and the Chilkoot Trail constitutes one of the world's "longest" museums.
The site
Originally occupied by Tlingit natives, Dyea was home to approximately 5,000 to 8,000 people at its peak. The historic townsite is just over a mile and a half long and a little less than a half-mile wide, and boasted a post office, a hospital, a school, a church, 49 hotels, 47 restaurants, 39 saloons, and four cemeteries. Today one can see ruins and artifacts all over the site and up and down the trail, including the remains of buildings, aerial tramway towers, telephone lines, wharf pilings, and boilers that powered tramways (left). Archaeologists from the National Park Service and Parks Canada have spent 30 years documenting features and artifacts. The trail now attracts thousands each year to experience the scenery and history. Some items have been taken over the years, but much remains and can be seen right on the surface in Dyea and along the trail. Care must be taken when viewing the fragile artifacts.
While you're there Whereas Dyea is a ghost town, Skagway is very much alive. Its historic downtown has a visitor center for the Klondike Gold Rush National Historical Park, where one can arrange tours of Dyea by foot, bicycle, or horse, or backcountry excursions along the Chilkoot Trail. The downtown area has many restaurants, hotels, and museums, including the Skagway Museum in City Hall, with many gold rush artifacts on display. The White Pass and Yukon Route Railroad offers beautiful sightseeing trips as well, following the path that many hopeful prospectors once toiled along—though you can do it in total comfort.
Share