An intriguing discovery in a Mexican swamp provides evidence of the earliest form of amusement in the Americas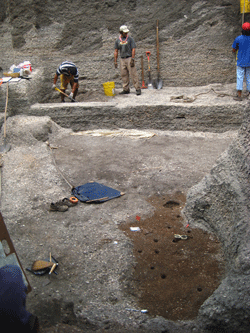 Oval arrangements of small holes found at the site of Tlacuachero, may have been used to play an early type of "board game." Clay disks, with markings on one side, might have been thrown like dice but date to hundreds of years later than the game boards. (Courtesy of Barbara Voorhies)
Professor Emerita Barbara Voorhies of the University of California, Santa Barbara, has spent much of her career investigating Mesoamerica's Archaic period, the time when people were on the verge of practicing agriculture and settling in permanent villages. Over a span of nearly 35 years, she has excavated on several occasions at the 5,000-year-old site of Tlacuachero in the southern Mexican state of Chiapas.
The site of Tlacuachero in southern Mexico is an island in a mangrove swamp made up almost entirely of clamshells. Material recovered from the site shows that it was a place where people harvested shellfish and fish between 5,050 and 4,230 years ago—long before the great civilizations of Mesoamerica would build their city-states. Over the years, the island grew as clams were harvested from the swamp and the shells were discarded there. While the shell mound was accumulating, the early people at Tlacuachero built several superimposed clay floors at the island center to create smooth surfaces that were easier to walk and work on. Nothing resembling the remains of houses has been found at the site, which probably indicates that the place was used only for processing the food that people gathered from the swamp.
Excavations begun in 1973 revealed holes where sturdy wooden posts had been driven into the floors. The pattern of the postholes marks places where racks for drying fish may have stood. Also on the floors were groups of tiny holes in oval patterns. These oval features are clustered only in one area of the floors, but why they were made has been a mystery ever since the first one was found. Features like these are often interpreted by archaeologists as being either purely utilitarian or purely ritualistic, which leaves out a whole range of human activities that has nothing to do with religion or making a living. But an answer to the question of what the oval features were used for may have been provided by an unlikely source—a book titled Games of the North American Indians, published in 1907, by Stewart Culin. Were the oval features used to play a game? Historical, ethnographic, and archaeological evidence supports this idea.


To read more, find ARCHAEOLOGY in your local newsstand or bookstore, or click here to buy a copy of the issue online. And if you'd like to receive ARCHAEOLOGY in your mailbox, click here to subscribe.
Barbara Voorhies is a professor emerita of the University of California, Santa Barbara.
Share