A post-Cold War construction boom is exposing evidence of a powerful Bronze Age culture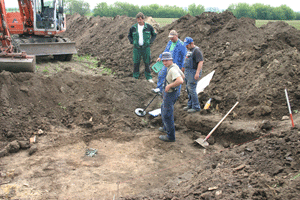 Weapon hoards dating to around 3,000 years ago, such as bronze ax heads uncovered by a bulldozer near the German town of Dermsdorf, have been discovered throughout Central Europe. The hoards indicate that the metal trade was a major source of wealth and power in the area during the Bronze Age. (Courtesy Thuringian State Office for Heritage Management and Archaeology)
On the morning of May 11, 2011, Mario Küssner looked on as a bulldozer shaved a layer of soil a few inches deep from a roadside field near the eastern German village of Dermsdorf. Küssner, a staff archaeologist for the state of Thuringia, was brought in before the scheduled construction of a highway on-ramp would begin. He knew that his team of archaeologists was working atop a medieval site, but the bulldozer uncovered something even more surprising—a handful of dull green ax heads lying in the soil. For the rest of that day, the bulldozer was banished as the archaeologists meticulously dug the site by hand. Their careful work revealed a clay jar standing a foot-and-a-half tall packed with 100 bronze ax heads dating to the Bronze Age—more than 3,000 years ago. The ax heads would have represented a tremendous amount of wealth at a time when bronze was in high demand for weapons and tools. What they were doing buried outside of Dermsdorf became the question.
"We had had signs of a settlement from the Middle Ages, but we had no clue there were Bronze Age finds," says Küssner. Before uncovering the ax heads, the only things the team had turned up were post molds—dark stains in the soil that show where wooden posts had once been planted as a frame for a house. With the discovery of the axes, Küssner and his team began taking a harder look at the surrounding area. Soon they found more post molds, dozens of them, enough to trace where the walls of a structure 35 feet wide and nearly 150 feet long had been. Based on the width of the walls and the spacing of the posts, Küssner estimates that the roof's peak would have been nearly 30 feet above the ground. Inside the walls, a double row of posts ran the length of the building, creating a central chamber. Altogether, the structure covered 5,000 square feet, making it the biggest Bronze Age structure discovered north of the Alps. The ax heads were buried at the southern end of the house, where the front door might once have been.


To read more, find ARCHAEOLOGY in your local newsstand or bookstore, or click here to buy a copy of the issue online. And if you'd like to receive ARCHAEOLOGY in your mailbox, click here to subscribe.
Andrew Curry is a contributing editor at ARCHAEOLOGY.
Share