Archaeologists excavating on the shores of the Persian Gulf search for what may prove to be the source of the world's longest-lived economy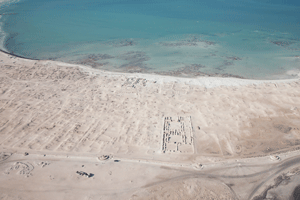 The once-thriving 18th- and 19th-century pearling center of Zubarah sits on the northeast coast of Qatar. At its peak around 1800, the city was surrounded by a 1.5-mile-long wall with 21 still-visible round towers and had a population in excess of 5,000.
(Courtesy University of Copenhagen)
For at least 7,000 years, people have settled along the shores of the Persian Gulf, in what one scholar calls "one of the most inhospitable regions on the planet." Despite its lack of natural resources, such as water or fertile soil, what the Gulf region did have was the world's most reliable source of fine pearls, until they began to be grown artificially a century ago. The long history of pearls and pearling in the Persian Gulf was, as a result, largely forgotten due to the collapse of the natural pearl industry in the early 1900s. Soon, the region came to be known only for exporting oil, despite the fact that some of the cities lining the Gulf's coast actually owe their early origins to pearls.
The luminescent gems have been prized as a symbol of luxury since antiquity. The ever-increasing demand for the tiny spheres not only attracted people to the Gulf's Arabian shores, but also provided the raw material for an economy that may have been one of the most enduring in the world. Nearly all that was known about the ancient pearling industry came from scattered mentions in texts that date only as far back as the fourth century B.C. However, archaeologists working at sites from Kuwait to Oman are now discovering evidence of ancient pearls, pearling, and the pearl trade. Because of this, they are beginning to understand the role the gem played in the region at Neolithic villages, Bronze Age centers, and wealthy cities of the eighteenth century. Says Robert Carter, an archaeologist at the University College London's new campus in Doha, Qatar, "The societies of the Gulf were shaped by the pearl oyster and trade from the earliest days."


To read more, find ARCHAEOLOGY in your local newsstand or bookstore, or click here to buy a copy of the issue online. And if you'd like to receive ARCHAEOLOGY in your mailbox, click here to subscribe.
Andrew Lawler is a contributing editor at ARCHAEOLOGY.
Share