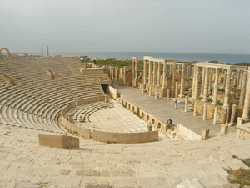 While claims were made that harm had come to sites in Libya, such as the Leptis Magna (above), the damage was negligible.
(Rob Walker/Flickr)
No discussion of the year 2011 can be complete without a reference to what's been termed Arab Spring. The political phenomenon has the potential to have an extraordinary impact on archaeology for years to come.
In Libya, a Russian journalist broadcast that thieves plundered the country's museums and NATO bombed the ancient Roman sites of Leptis Magna and Sabratha. At the end of September, a three-person team from Blue Shield, a nonprofit organization concerned with the protection of cultural heritage in areas of conflict, traveled to western Libya and found Leptis Magna untouched. The theater at Sabratha suffered minor bullet damage, but the rest of the site was fine. Rebels had entered Tripoli's National Museum, but only wrecked Qaddafi's old cars on display; museum staff had previously hidden or moved important artifacts. Overall, the Blue Shield report said, they found no evidence of organized looting at the museums or archaeological sites they visited. Nevertheless, there are still concerns.
"There is a lot of hearsay, but artifacts have been smuggled out of the country through Egypt," says Ray Bondin, Malta's ambassador to UNESCO, who has worked with Libyan heritage authorities for many years. "The sites are not well protected and the department of antiquities is still organizing itself."
After rebels drove Qaddafi's forces from Benghazi, for instance, the so-called Treasure of Benghazi—around 8,000 bronze, silver, and gold coins and other artifacts from the ancient city of Cyrene near modern-day al-Bayda—disappeared from a bank vault.
Egypt appears to have been affected more than its westerly neighbor. After the revolution erupted in late January, then Minister of State for Antiquities Affairs Zahi Hawass offered assurances that all sites and artifacts were safe. Later, however, this proved not to be true. Looters had attacked dozens of sites and broke into storerooms throughout the country, including in the delta region, Abydos, Abu Sir, Giza, Dashur, Lisht, Saqqara, and Quntara. Thieves also pilfered artifacts from Cairo's Egyptian Museum, while protests and street battles went on outside in Tahrir Square.
Archaeologists in Egypt now say security has returned, but organization has faltered since the Mubarak regime fell. In an attempt to stabilize the situation, the Supreme Council of Antiquities (SCA) is no longer part of the Culture Ministry, and instead is part of Prime Minister Essam Sharaf's portfolio. "The SCA is going through a very painful auditing process," says Tamar Teneishvili, a UNESCO specialist in Cairo. "And the treasury for cultural heritage management, funded by tourism, is empty."
Tunisia, the first Arab Spring country to evict its dictator, appeared to have avoided post-uprising archaeological problems. Once Ben Ali and his family fled the country, however, an earlier, state-sponsored looting epidemic was discovered. On a program on France 2 television, Complément d'enquête, Fathi Bejaoui of Tunisia's National Heritage Institute was filmed as he entered Ben Ali's daughter's abandoned beach mansion. There they found nearly 200 artifacts used as decoration. Ancient columns held up a large exhaust hood in the kitchen and marble friezes were cut to frame the fireplace.
Syria could be the next country to oust a regime, but the government has sealed the country to outsiders and information is sparse. The state-run news agency reported in September 2011 that looters had hit the Seleucid city Apamea, not far from modern-day Hama, the seat of opposition to the Assad regime.
Share