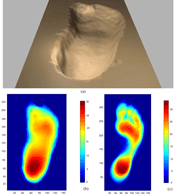 A composite made from the ancient prints (top) was used to model the forces exerted when the foot struck the ground (bottom left). Comparison with the forces exerted by a modern human foot (bottom right) showed that the Laetoli prints were made by anatomically modern feet.

(Courtesy Evolutionary Morphology and Biomechanics Research Group, Institute of of Aging and Chronic Disease, The University of Liverpool)


The 3.6-million-year-old footprints at Laetoli, Tanzania*, have fascinated archaeologists since they were discovered in 1976. These prints preserve, in volcanic ash, that most characteristic of behaviors—the act of walking—among early humans. Understanding how early humans moved is important because efficient, upright locomotion was one of the first evolutionary traits that set them apart from other ape species. A team led by Robin Crompton of the University of Liverpool recently published a study of the Laetoli footprints that used 3-D laser scans to show that whoever left them—perhaps Australopithecus afarensis—had anatomically modern feet, approximately 2 million years before they were thought to have evolved.
Crompton's study analyzed 11 of the Laetoli footprints likely to have been made by the same individual, and combined the scanned results to come up with a single composite footprint. The method revealed a detailed picture of how forces were transmitted between the foot and the ground. The composite print was compared to modern ones made by apes and humans walking over a plate that measures downward force. The Laetoli print showed evidence of an arch in the midfoot and a forward-pointing big toe that pushed off with each step, traits similar to those of modern human feet.
Evidence of arched feet has also been observed in the 2-million-year-old fossils of Australopithecus sediba, found at Malapa Cave in South Africa in 2008. The study of A. sediba feet, part of a new comprehensive analysis of the skeletal remains, shows a human-looking ankle, Achilles tendon, and arch, but also ape-like features more adapted for climbing trees. The age of the skeletons and their mix of traits has led excavator Lee Berger of the University of the Witwatersrand and his colleagues to theorize that A. sediba may be a direct ancestor of our genus, Homo.
*Correction: An earlier version of this article incorrectly stated that the Laetoli footprints are located in Kenya. They are actually just to the south in neighboring Tanzania.
Share