(Courtesy The Lake Ponchartrain Basin Maritime Museum)
The Tchefuncte (pronounced "cha-FUNK-tuh") River Lighthouse is a historic structure that sits on Lake Pontchartrain near the mouth of the Tchefuncte River in Madisonville, Louisiana, 45 miles north of New Orleans. Built in 1837 to help guide boat traffic into the river, it has survived the Civil War (though it was rebuilt), hurricanes, age, and a movement to automation. This key piece of Louisiana's nautical history is still in operation, but the land it sits on is also of great interest. Andrea White of the Greater New Orleans Archaeology Program at the University of New Orleans recently conducted the first archaeological testing at the site.
The site and archaeology
The building site itself, though popular with lighthouse enthusiasts, is closed to visitors because of concerns about vandalism. But it is easily seen by boat and from some of the surrounding land—and in the hit 2008 film, The Curious Case of Benjamin Button. In summer 2009, White and Jay Martin, former director of the Lake Pontchartrain Basin Maritime Museum, along with dozens of volunteers and students, surveyed the area.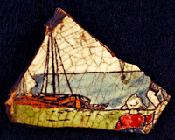 Finds at the Tchefuncte River Lighthouse include this hand-painted sherd with a Dutch maritime motif.
(Courtesy The Greater New Orleans Archaeology Program)
"The area around the lighthouse has been poorly understood archaeologically until very recently," says White. Though the landscape has been heavily disturbed by water and weather, the team found archaeological evidence spanning more than 2,000 years of occupation—from the early twentieth century, when the site included a keeper's cottage, back into prehistory, when Native Americans used it as a seasonal camp to harvest shellfish and other aquatic species. The finds included bone buttons, pottery, and stone tools and points. Among them was a hand-painted sherd with a Dutch maritime motif, which may have belonged to Harry Brouwer, lighthouse keeper from 1918 to 1920, who was born in the Netherlands.
While you are there
The last keeper's cottage on the site was moved to the Lake Pontchartrain Basin Maritime Museum in Madisonville, which features information and artifacts from centuries of nautical history in the area. There are plenty of hotels in town and restaurants along the river—be sure to sample the lake crabs and po'boys. And in mid-October, the town hosts a colorful Wooden Boat Festival. That is also Louisiana's Archaeology Month—this year's theme is the Civil War—with a variety of activities and lectures across the state.
Share