An ancient Afghan fortress offers rare evidence of Persia's forgotten eastern territories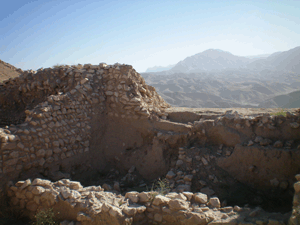 Perched high above an important pass between Central Asia and the road to India, the fortifications of Cheshm-e Shafa were a crucial stronghold for a succession of empires for more than 1,500 years beginning in the 5th century B.C.
(Courtesy Andrew Lawler)
Today, Cheshm-e Shafa in northern Afghanistan has spectacular views but a forlorn, end-of-the-world air. Broken stone walls once stood high upon a steep and barren hillside. Far below, a river snakes through a narrow defile, an empty highway hugging its banks. To the north lie the open steppes; in the south, the jagged peaks of the distant Hindu Kush mountain range rear up in the haze.
But during the fourth century B.C., at the height of the Persian Empire, Cheshm-e Shafa was more than just a spot from which to view a dramatic landscape. It was an impressive fortification that controlled the strategic pass between the rugged plains of Central Asia and the road to the rich lowlands of India. The high walls may also have protected an important Zoroastrian temple and a long-lost city that lies just below. A team of French archaeologists has now begun the first comprehensive excavation of a site that offers a rare glimpse into the eastern half of one of the world's great empires.


To read more, find ARCHAEOLOGY in your local newsstand or bookstore, or click here to buy a copy of the issue online. And if you'd like to receive ARCHAEOLOGY in your mailbox, click here to subscribe.
Andrew Lawler is a contributing editor to ARCHAEOLOGY.
Share