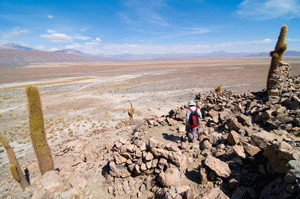 (Courtesy Pastor Fabrega, Project Topain [CSIC])
The Atacama Desert of northern Chile is mostly known as one of the driest places on the planet and for being home to several major astronomical observatories. It was also home to the Atacama people, who established an advanced pre-Columbian society in the parched region. Intrepid desert adventurers can learn more about how they did it from the largely unknown site of Topain, according to archaeologist Diego Salazar of the University of Chile. The town was settled between A.D. 1000 and 1200 and inhabited until the Inca conquest in the sixteenth century. Though it was ignored for decades, archaeological excavations are now showing how special the site is, Salazar says.
The site Topain contains the remains of more than 100 habitation structures that seem to have included underground storage and burials. But what's truly fascinating about the site is how its residents managed their scarce water supplies through complex agro-hydraulic systems. These systems of stone canals, dams, aqueducts, and rumimoqos (holding ponds), which are impeccably preserved, carried water from sources several miles away and were necessary for the highly complex society and agriculture. Another site nearby, Paniri, is thought to have the same kind of agro-hydraulic system—possibly even larger—though it has not yet been studied. Salazar says this work will start soon in collaboration with the local Aquina people, who consider the sites sacred.
While you're in the region
More Atacama remains can be seen at the popular sites of Tulor and Lasana, among others. A variety of desert excursions can also be arranged from the towns of Calama or San Pedro de Atacama, which also hosts the R.P. Gustavo Le Paige Archaeological Museum, home to 380,000 pre-Columbian artifacts. Regional attractions include desert valleys, hot springs, geysers, flamingos—and stargazing. It's a landscape unlike any other on Earth. Just be sure to bring plenty of water on any expedition.
Share