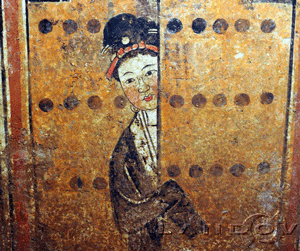 (Zhao Peng/Xinhua/Landov)
Seemingly everyday, spectacular finds are made by archaeologists working across China. One of the most astonishing discoveries of the year is a well-preserved tomb uncovered in the city of Dengfeng in central China's Henan Province. Every inch of the tomb, which dates to the Song Dynasty (960-1279), is covered in brightly colored frescoes that depict the daily life of the tomb's occupant. (Neither the identity nor sex of the tomb's owner or owners has been reported, although the elaborate decoration suffests that he or she was wel-off and og high status. The frescoes were clearly executed by an artist with extensive experience decorating the hexagonal-shaped tombs of the period.
The tomb's pictorial program, which includes scenes of serving women, a husband and wife seated at a table being served a meal, and a woman ushering the deceased's soul into the netherworld, is typical of Song Dynasty tombs, says Roberta Bickford of Brown University. Every detail of each person's clothing and hairstyle is carefully depicted to communicate their status, and the utensils and pottery replicate what would have been in common use at the time. According to Nancy Berliner, Curator of Chinese Art at the Peabody Essex Museum, the imitated architectural details especially the dougong bracketing, are faithful to the period. Dougong, the structural element of interlocking wooden brackets is one of the most typical elements of traditional Chinese architecture, she says.
After centuries of violent conflict and division in China, the Song Dynasty rulers unified most of the country. This ushered in a period of peace and prosperity that scholars consider one of the most culturally sophisticated in Chinese history.
Share