A fresh look at the convict era—when tens of thousands of exiled criminals helped lay the foundation of a modern nation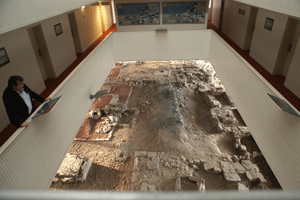 In Sydney's oldest neighborhood, The Rocks, archaeological remains from the convict era—when Australia was a British penal colony—have been preserved in situ beneath a modern hostel.
(Samir S. Patel)
The posh new youth hostel in The Rocks, Sydney's oldest neighborhood, is built on stilts. Below and around this backpackers' haven is a tableau of everyday life from modern Australia's first years, when it was a penal colony and the most remote branch of the British Empire. The foundations and other artifacts here were revealed during extensive archaeological digs in 1994 that uncovered almost two full blocks between Cumberland and Gloucester streets. Wayne Johnson, an archaeologist with the Sydney Harbour Foreshore Authority, beams with pride about the hostel, which was designed to preserve in situ the remains of 48 houses and shops occupied by convicts and ex-convicts. The hostel even collects an extra dollar on each night's stay for maintenance and preservation. Similar public preservation of archaeological remains can be seen at the Museum of Sydney (site of the First Government House), the Sydney Conservatorium of Music (the ornate early stables), and Hyde Park Barracks (once a major convict depot, now a museum). The city really seems to embrace its criminal heritage, though in some parts of the country, the convict "stain" is still a sore point.
Between 1788 and 1868, 170,000 men and women were brought halfway around the world, from crowded, draconian Georgian prisons to an uncooperative, alien wilderness more than 30 times the size of Britain. The Crown wasn't merely trying to get rid of these people—well, maybe some of them—it was also trying to start a self-sufficient colony 15,000 miles from home.


To read more, find ARCHAEOLOGY in your local newsstand or bookstore, or click here to buy a copy of the issue online. And if you'd like to receive ARCHAEOLOGY in your mailbox, click here to subscribe.
Samir S. Patel is deputy editor of ARCHAEOLOGY.

Rogues' Gallery: The Convicts of Early Australia
Share