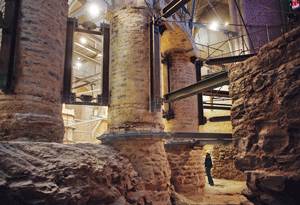 (Xabi Otero)
There are many sights to see along the ancient pilgrimage route through northern Spain to Santiago de Compostela. Archaeologist Agustin Azkarate of the University of the Basque Country and his colleague Sergio Escribano Ruiz say you can't miss the newly renovated Cathedral of Santa Maria in the Basque city of Vitoria-Gasteiz.
The site Excavations during the restoration of the cathedral revealed layers of history dating back to the eighth century, including countless pottery fragments and almost 2,000 graves. The original settlement of Gasteiz was built around A.D. 800. In the eleventh century, the first city wall was erected and the first church was later built against it. A couple of hundred years later, part of the wall was torn down so the cathedral could be expanded. But subsequent centuries weren't so kind—the cathedral was closed in 1993 because of the risk of total collapse. After more than a decade of excavation and restoration, it has become a beacon for Basque heritage. Guided tours of the cathedral include audiovisual exhibits on its history and—in the old cathedral—visitors can see portions of the original city wall.
While you're in the neighborhood The old quarter of Vitoria-Gasteiz—with its intact, centuries-old streets—is full of great places to enjoy traditional Basque cuisine and local wine. Just north of the town is the village of Ollerias, where artisans still make pottery in a local eighteenth-century style. And 20 minutes away is the Salt Valley of Añana, where high-quality salt has been produced for 1,200 years from natural, briny springs—now known for their therapeutic qualities.
Share