Clues about the earliest Americans emerge from the Yucatán's watery underworld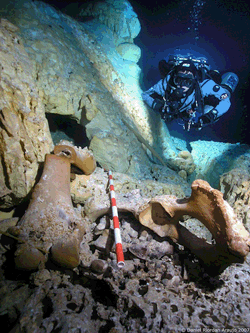 Research divers exploring a vast cave network have found the pelvis and limb bone of an extinct species of elephant. These finds date to a period when water levels in the cave were lower.
(Courtesy of Daniel Riordan Araujo)
Beneath the surface of Mexico's Yucatán peninsula is a massive network of caves that forms a world unto itself. Until 7,600 years ago, the caves were mostly dry, providing shelter and naturally occurring pools of drinkable water to people and animals living in a region with few rivers. As the glaciers in North America melted and sea levels rose, so did the water levels in the caves, preserving the traces of human activity in place. These water-filled spaces, called cenotes, are largely unexplored, but a dedicated group of archaeologists and divers are working together to investigate them.
In 2007, four expert divers—Alberto Nava, Alejandro Alvarez, Danny Riordan, and Franco Attolini—were mapping the extensive network in southeastern Yucatán. Nearly a mile into the cave in improbably clear water, they entered a dome-like chamber with a roof that opens to the sky. Beneath them the floor dropped away, swallowing the beams of their flashlights. They found themselves suspended above a 190-foot-deep hole, which they named "Hoyo Negro," the Black Hole. "We were mesmerized by the immense pit," said Nava. "We did not realize the significance of Hoyo Negro until we had visited it a few times."


To read more, find ARCHAEOLOGY in your local newsstand or bookstore, or click here to buy a copy of the issue online. And if you'd like to receive ARCHAEOLOGY in your mailbox, click here to subscribe.
Christina Elson is a freelance writer based in Washington, D.C.
Share