In World War I, planes were primarily used for reconnaissance missions—though early dogfights took place between aircraft outfitted with machine guns. In World War II, in addition to recon and air fights, aerial bombing was a major activity. As a result of this increased use of planes, sites where World War II planes went down are dotted all over Europe, as well as parts of Asia and the Pacific. England's archaeological advisory group English Heritage estimates that more than 10,000 aircraft from both the Allied and Axis sides crashed in U.K. territory alone.
Amateurs, such as WWII buffs or aircraft restorers, are often the primary investigators of these sites, though several excavations led by academic institutions and humanitarian organizations have been undertaken. Here are a few sites that clearly illustrate both the variety of aircraft employed in WWII, as well as the war's geographic reach.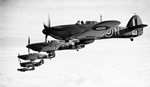 (Imperial War Museum Collections)
Plane: Hawker Hurricane
Pilot affiliation: U.K.
Crash site: Buckingham Palace Road, London
Cause: On September 15, 1940, during the Battle of Britain, Royal Air Force pilot Ray Holmes spotted a German Dornier headed straight for Buckingham Palace. Out of ammunition, he chose to run his Hurricane into the German plane, clipping its tail and causing it go down. Holmes parachuted to safety before his aircraft hit the ground at 350 miles per hour.
Excavation: A 13-year effort led by amateur archaeologist Christopher Bennett sought to dig up the plane, which was lodged under a water main beneath Buckingham Palace Road.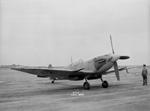 (NASA Langley Research Center)
Plane: Supermarine Spitfire Mk IIA
Pilot affiliation: Canada
Crash site: County Durham, northeast England
Cause: The radio in Harold John Appel's Spitfire wasn't working when he took off to patrol a nearby harbor on March 27, 1942. When he encountered a low cloud while heading back to base, he broke formation and crashed into a bog.
Excavation: Members of an amateur organization called Air Crash Investigation and Archaeology recovered parts of the plane during a dig in March 2008. They found remains of the cockpit instrument panel, radio controller, pilot's seat, wings, and fuselage.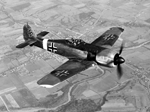 (USAAF)
Plane: Focke-Wulf FW 190
Pilot affiliation: Germany
Crash site: Nynice, northwest Czech Republic
Cause: On May 8, 1945, the Germans surrendered to the Soviets while troops near Prague were wedged between Soviets to the east and Americans to the west. This FW 190 went down during an encounter with U.S. planes. Eyewitnesses said the Americans shot it down.
Excavation: In 2010, Czech archaeologists reported that amateurs had been to the site. The team found plates identifying engine parts and glass from the gunsight. The site's stratigraphy suggests the pilot did not attempt emergency landing procedures.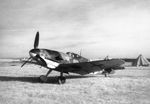 (Reiners)
Plane: Messerschmitt ME 109
Pilot affiliation: Hungary
Crash site: Abony, southeast of Budapest, Hungary
Cause: A captain in the Royal Hungarian Air Force (known as the "Pumas") was shot down by Russian antiaircraft artillery. He tried to execute a crash landing, but died in the process.
Excavation: In 2005, Hungarian archaeologists used geophysical survey techniques to locate the lost plane. Among artifacts recovered from the crash site were the plane's front propeller, its engine block, a large piece of one of its wings, and the mount where its ammunition was housed.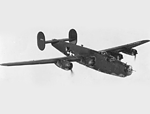 (USAAF)
Plane: B-24 Bomber
Pilot affiliation: U.S.
Crash site: Arunachal Pradesh, state in northeast India
Cause: From 1942 to 1945, U.S. forces ferried supplies to Chinese troops via the treacherous route through the Himalayas known as the "Hump." On January 25, 1944, an eight-man crew in the B-24 bomber called Hot as Hell never made it back from China.
Excavation: In December 2006, an American businessman who locates MIA planes recovered remains of the wing, the engine, and the cockpit's control panel. The Joint POW/MIA Accounting Command is planning a dig in fall 2011 to recover any human remains.
More Archaeology of World War II
Share