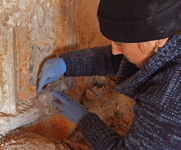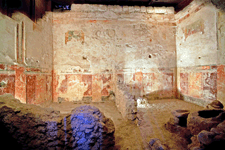 Archaeologists working south of Bethlehem on the site of King Herod's palace and entertainment complex have uncovered an elaborately painted theater box. (Courtesy Hebrew University)
In the first century B.C., thousands of guests came to be wined, dined, and entertained in a massive palace and burial complex built by King Herod south of Bethlehem. Hebrew University archaeologist Ehud Netzer calls it "Herod's Country Club."* But where would the VIPs have sat to watch the dramatic and comedic productions staged for them? According to Netzer, who has been excavating a section of the site since 2006, the lavishly decorated theater box he recently uncovered above a semicircular theater stage and rows of bench seating would have been the ideal vantage point.
Wall paintings such as those that decorate the royal box have never before been discovered in this region. Depicting natural landscapes, nautical scenes, animals, and the Nile, they are most similar to paintings found at Pompeii that date to the late first century B.C. Netzer believes they were painted by Italian artists brought in specially for the job.
*Update: We regret to inform our readers that since the publication of this issue, Ehud Netzer has passed away.
Share