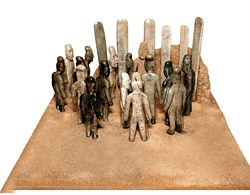 The site of La Venta near Mexico's Gulf Coast has produced some spectacular Olmec artifacts, including a funeral offering of green stone figurines, and one of the famous colossal heads (below). (Consejo Nacional para la Cultura y las Artes-Instituto Nacional de Antropologia e Historia-Mexico-Javier Hinojosa)
The Olmec of Mexico may be the Etruscans of ancient Mesoamerica. Much as the Romans overshadowed the Etruscans, the Olmec have long lacked a place in the popular imagination on par with the Aztecs and Maya. But "Olmec: Colossal Masterworks of Ancient Mexico," at the Los Angeles County Museum of Art through January 9 and at the de Young Museum in San Francisco starting February 19, might change that. The show reveals that the Olmec civilization, which flourished on the tropical Gulf Coast of Mexico for a thousand years ending about 400 B.C., also achieved greatness in some of its enormous ceremonial works.
The exhibition is the biggest of three concurrent shows that opened LACMA's airy and adaptable new Resnick Exhibition Pavilion. The six-foot-tall Colossal Head #5 from the ancient city of San Lorenzo greets visitors with an arresting sneer. At the other end of the long, spacious main gallery is its counterpart, with a face like a smiling Buddha's. Its benign visage, we're told, didn't save the head from having its nose smashed off—mutilations were a common fate for the statuary of deposed Olmec royals.


(© Richard Hewitt Stewart/National Geographic Stock)
Cutting through the otherworldliness of much of what we see in this show are moments of connection between then and now, notably "El Bebe," a squalling green-stone infant shown in a squint-eyed, gape-mouthed howl familiar to parents throughout the ages. But a ceremonial array of 16 coneheaded figures could feed a UFO enthusiast's fantasies of ancient visitations. Few works anywhere could top two large, nearly identical, serene kneeling male figures that evoke the great statuary of ancient Egypt—but whose sweeping curved lines would appeal to a modernist sculptor.
The exhibition's organizational groupings and wall text allow it to passably serve two masters—the aesthetic presentation together with some archaeological context. However, two large replicas of post-Olmec murals could have usefully been replaced with archaeological elements such as photographs of artifacts in situ and detailed maps showing how key finds were arrayed at the three main Olmec capitals uncovered since the mid-1800s. But "Olmec: Colossal Masterworks" combines seriousness of educational purpose with an immense appreciation of the beauty in these astonishing ancient works.
Share