Aboriginal Australia's painted history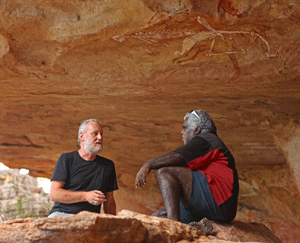 Griffith University rock art expert Paul S. C. Taçon and Aboriginal elder Ronald Lamilami discuss indigenous rock art traditions in the rock shelter at Djulirri, which features 1,100 separate paintings, including the overlapping spirit figure and kangaroo above them. (Samir S. Patel)
Ronald Lamilami first came to Djulirri (JUH-lih-ree) in the early 1960s, when he was three years old. On foot and by canoe, his father, Lazarus, showed him the route that their Aboriginal ancestors had used for thousands of years, following food and shelter inland from Australia's north coast. Each wet season, those ancestors spent several months at Djulirri, a well-concealed rock shelter in a horseshoe-shaped valley. "I remember paintings on rocks," Lamilami says.
In 2010, Lamilami sits in the passenger seat of an off-road vehicle driven by archaeologist and rock art specialist Paul S. C. Taçon of Griffith University in Gold Coast, Australia. The narrow track through Lamilami's clan estate isn't so much rutted as corrugated, and Taçon's strategy is to keep up his speed and skip across the surface, except when it winds around fallen trees or through soft, sandy washes. The Aborigines here have six seasons—it is the end of Wurreng (the early dry) and the start of Gurrung (the hot dry). During any of the wetter seasons, the road would be waterlogged and impassable.
The landscape of stringybark eucalyptus, pandanus palms, and spiky spinifex grass is studded with sandstone outcrops that form part of the Wellington Range on the edge of the Arnhem Land plateau.

To read more, find ARCHAEOLOGY in your local newsstand or bookstore, or click here to buy a copy of the issue online. And if you'd like to receive ARCHAEOLOGY in your mailbox, click here to subscribe.
Samir S. Patel is a senior editor at ARCHAEOLOGY.

Video: The Rock Art of Djulirri

Slideshow: The Rock Art of Malarrak
Share