Will economic pressure destroy the country's Buddhist heritage?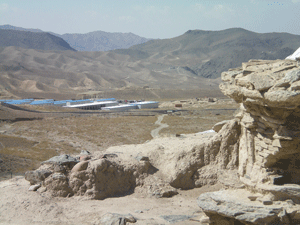 The ancient Buddhist monastic complex of Tepe Kafiriat lies atop the world's second largest copper deposit. A Chinese mining company, whose workers' camp can be seen here, plans to begin extracting copper at the site. As a consequence, the monastery and many other Afghan Buddhist sites will be destroyed. (Andrew Lawler)
One decade after the world witnessed the deliberate dynamiting of Afghanistan's Bamiyan Buddhas by the Taliban, another Afghan heritage site is under threat. But this time the danger comes from mining interests bent on getting at what's underneath the site of Mes Aynak. This dense cluster of richly appointed Buddhist stupas, chapels, monastic quarters, storerooms, and a host of surrounding ancient settlements faces total destruction. Mes Aynak means "little copper well," and it sits on top of the world's second largest copper deposit. With the blessing of the Afghan government and a nod from the United States, a Chinese mining company intends to begin extracting the metal and provide this desperately poor country with much-needed revenue. The mining will almost certainly require demolition of the dozen or more ancient sites covering five square miles. What will be sacrificed is nothing less than a major part of Afghanistan's Buddhist history. But French archaeologist Philippe Marquis is determined not to let that happen.
In the early centuries A.D., the people of what are now modern Afghanistan and Pakistan played a critical role in disseminating Buddhism. Rich kings patronized monasteries and artisans produced some of the first, finest, and largest Buddhist sculptures and paintings known.

To read more, find ARCHAEOLOGY in your local newsstand or bookstore, or click here to buy a copy of the issue online. And if you'd like to receive ARCHAEOLOGY in your mailbox, click here to subscribe.
Andrew Lawler is a contributing editor to ARCHAEOLOGY.
Share