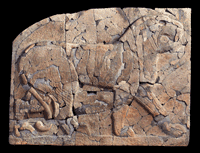 (©Staatliche Museen zu Berlin,
Foto: Olaf M. Teßmer)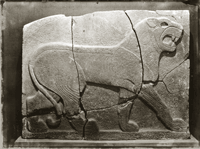 (Courtesy Salima Ikram)
In the early 1900s, German banking heir and amateur archaeologist Max von Oppenheim gave up a foreign service career to excavate Tell Halaf, a palace complex built by one of northern Syria's small dynasties around 1200 B.C. Berlin's museums didn't have enough funds to buy the artifacts, so Oppenheim built a museum of his own to house more than two dozen statues he'd brought back to Germany.
In 1943, an Allied bomb caused a fire that incinerated Tell Halaf's limestone statues and plaster casts. Statues carved from basalt survived the blaze—until firefighters doused the super-heated rock with cold water, shattering the artifacts into more than 27,000 fragments. Authorities took nine truckloads of rubble to Berlin's Pergamon Museum's basement, where it sat in Cold War diplomatic limbo for decades. In 2001, with funding from the von Oppenheim family's foundation, archaeologists and conservators started piecing together fragments using archival photos.
"Rescued Gods of Tell Halaf" will be at the Pergamon from January to July 2011. Cracks and chips left by wartime damage will be left intact. "We decided the destruction was also part of their history," says curator Nadia Cholidis.
Share