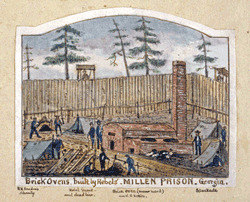 Archaeologists excavating a Confederate prison stockade in east Georgia were guided by the watercolors of Union cartographer Robert Knox Sneden, an inmate at the short-lived camp. (Courtesy Virginia Historical Society)
In the fall of 1864, a sprawling wooden stockade in the piney woods near Millen, Georgia, was briefly one of the world's largest prison camps. Built to replace the notorious Confederate jail at Andersonville, Camp Lawton's prison population quickly swelled to 12,000, a fraction of the 40,000 the Confederacy planned to house there. It never happened. As General William Tecumseh Sherman's Union troops swept across Georgia toward Millen, the prison was hastily abandoned and the prisoners shipped by train to Savannah. The stockade and its buildings slowly melted back into the landscape, just another forgotten footnote in Civil War history—until this year.
The defensive earthworks built nearby have long marked the general location of the camp, but most archaeologists assumed that the prison itself—somewhere on the grounds of Magnolia Springs State Park and an adjoining fish hatchery—had been so briefly occupied and so thoroughly scavenged that little of historical value remained. But Kevin Chapman, a graduate student at Georgia Southern University, working on what he expected to be an uncomplicated master's thesis, decided to take a closer look.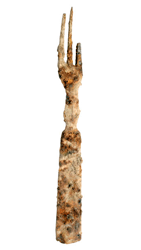 The prisoners left behind many more artifacts than the team anticipated, including an iron fork that may have been from a mess kit. (Courtesy Georgia Southern University)
Guided by ground-penetrating radar data, official Confederate records, and a hand-drawn map of the site by prisoner of war Robert Knox Sneden, Chapman uncovered a line of postholes that marked the wall of the 42-acre stockade. The wall, buried under six feet of fill in the 1930s, lay just 50 yards from the park's main parking lot.
Chapman says Sneden's map—part of a trove of Civil War watercolors and maps found in a Connecticut bank vault in the 1990s—"proved to be an important key to everything we have done." Sneden's detailed artistry also guided the team to an area along the back of the stockade, where his works showed prisoners living in tents and shanty-like "shebangs." Chapman says shovel tests and metal detectors used to survey the area yielded "immediate and stunning results." Instead of the light scatter of artifacts they had expected, they found a wealth of material—forks and spoons, lead minié balls, a bronze tourniquet buckle, a picture frame, a pipe, silver jewelry, a uniform button from New York, and German and Austrian coins that probably belonged to immigrants serving in the Union army.
After a summer of work, Chapman's team has surveyed only about 1 percent of the Georgia site, mapping the surface, compiling ground-penetrating radar profiles, and cataloging artifact finds. "We're going to go slow with any excavation," he says. "There aren't any other Civil War prison camps that have remained undisturbed for so many years."
For more about the discovery of Robert Knox Sneden's paintings and records, see "Sneden's Legacy."
Share