A 16th-century shipwreck marks Spain's last chance to claim the American South
| | |
| --- | --- |
| In Pensacola Bay, divers excavate the wreck of a ship from the colonization fleet of Spanish nobleman Tristán de Luna. Though the site is not in deep water, visibility is a challenge, so archaeologists and students learn to excavate by feel and instinct. (Courtesy John Bratten, University of West Florida) | |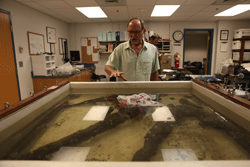 Archaeologist John Bratten explains the initial conservation of gudgeons—metal strips that held the rudder to the stern of the Emanuel Point II wreck—in his lab at the University of West Florida. (Samir S. Patel)
The sediment and water appear to swirl in different directions and my eyes struggle to focus. I'm not deep, just 12 feet below the surface of Pensacola Bay, but visibility is zero. A brief twinge of panic seizes me. A hand grabs mine and guides it to a hard patch in the soft sand. Floating words appear: "We are at the stern." The hand then pulls me shoulder-deep into a hole. More words: "Sternpost." A moment later, there's no more hand. I scan the gray-green haze for bubbles but see nothing. Following procedure, I wait 30 seconds and surface. My guide, University of West Florida (UWF) archaeologist John Bratten, bobs just 10 feet away, an underwater writing slate in hand. We drift back to the dive platform, a custom-built barge where a group of UWF graduate and undergraduate students tend to gear, take notes in yellow field books, and help each other in and out of the water. They're excavating the wreck of a ship from the 1559 colonization fleet led by Don Tristán de Luna y Arellano, a Spanish nobleman possessed of more ambition than luck.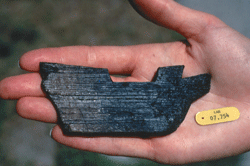 A wooden carving of the silhouette of a ship found on the Emanuel Point I wreck depicts the high sterncastle and forecastle of a 16th-century Spanish galleon. (Courtesy John Bratten, University of West Florida)
Pensacola Bay, in Florida's western panhandle, is littered with wrecks, from Civil War–era ships to steamers to fishing boats. It is, after all, in Hurricane Alley, and it was a great storm that sank this ship and five others in Luna's fleet, dooming one of Spain's most promising attempts to settle the Southeast United States and expand the colony of New Spain (Mexico) north and east, all the way to the Atlantic Coast. That storm—let's call it a force majeure—looms large over the eventual colonization of North America.
"Over a period of 24 hours, it went from the most well-planned, well-provisioned colonization attempt to a question of survival," Bratten says.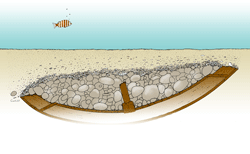 The Emanuel Point II wreck (like Emanuel Point I) consists of a ship's lower hull topped by a pile of ballast stones and artifacts. Oysters and clams colonized the ballast pile, creating a cap that preserved perishable materials such as rope and leather. (Courtesy Greg Cook, University of West Florida)
When he and I return to the water that afternoon, visibility is a scenic two feet. We navigate by rail, following the system of tapes and lines strung along the site. A pair of students looks for the ship's rudder with an underwater metal detector, while two more groups excavate at the stern and amidships, piling larger items into milk crates and using induction dredges that suck sediment and smaller artifacts into mesh bags. As I observe, Bob Marley's "Is This Love" starts playing in my head. But it's actually coming from a set of underwater speakers that help pass the hours of excavation-by-feel. The wreck consists of a lower hull beneath the sand, topped by a pile of ballast, artifacts, and oyster shells, but after several dives I still can't form a mental picture of the ship it once was. So little can be seen at one time that it's like trying to picture a darkened room after peeping briefly through a keyhole. The students and archaeologists like to speak of rare days of light and clarity, when they can float on the surface and see the outline of a ship. That and their hours of groping around the site have given each of them a mental map of the vessel. Similarly, findings from this wreck and another ship from the fleet—found nearby in 1992—combined with documentary records, are forming an ever-more-detailed composite picture of Luna's ill-fated expedition and how a single storm changed the landscape of colonial North America. "The more I think about it, the more I'm convinced that had the Luna expedition been given half a chance to succeed, the entire fabric of colonial North America would have been altered dramatically," says John Worth, an anthropologist at UWF. "We'd be speaking Spanish right now."
Samir S. Patel is a senior editor at ARCHAEOLOGY.
Share