Find out on our newly re-launched website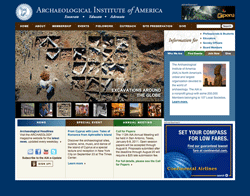 As a subscriber to ARCHAEOLOGY, you are already a member of the Archaeological Institute of America (AIA), but you may not be familiar with all of the AIA's exciting initiatives and programs. If you want to become more involved in these activities, or if you're just curious about the world of archaeology, I invite you to explore our newly redesigned Institute website at www.archaeological.org.
While the ARCHAEOLOGY website brings you news and discoveries from around the world, the AIA website is your gateway to a community of people who, like you, are passionate about the past. There you can find a local AIA Society near you—we have more than 100 across the continental United States, Hawaii, Canada, and abroad. Societies host a variety of events, such as museum tours and family archaeology fairs, as well as lectures at which you can hear from the world's leading archaeologists about Crete in the age of Odysseus, Florida's earliest shipwreck, and even the archaeology of beer.
You can also learn about—and sign up for—special AIA events. "From Cyprus with Love: Tales of Romance from Aphrodite's Island," will present the archaeological sites, cuisine, wine, music, and dance of Cyprus at a special lecture and reception in New York City on September 23. And it isn't too early to make plans to attend our AIA annual meeting in San Antonio, Texas, January 6–9, 2011, to hear about the latest finds.
And there is much more. You can read about the ways in which the AIA is having a global impact, especially with our Site Preservation Program, which supports projects that protect our shared cultural heritage. The most recent grant recipients include Paynes Creek, a site in Belize with unique Maya wooden structures, and the Gault Site in Texas, with its unparalleled record of Paleoindian cultures. Other projects that have received support are in Cambodia, Cyprus, Easter Island, and Turkey.
Our staff in Boston and New York has spent many hours on the new website, and I hope you will take some time to browse its pages. You may even decide to embark on an adventure with AIA Tours or explore the excavations listed in our online "Archaeological Fieldwork Opportunities Bulletin." Log on to www.archaeological.org today and start exploring all that AIA has to offer!
C. Brian Rose is the president of the Archaeological Institute of America.
Share