Maya Calendar App
Apple Apps Store, $2.99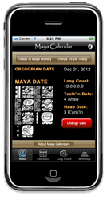 Maya Calendar App
Apple Apps Store, $2.99


The hysteria surrounding the apocalypse supposedly heralded by the end of the Maya long count on December 21, 2012, has led to the proliferation of hokey, Maya-themed countdown clocks for the iPhone. But Mayanist Edwin Barnhart rises above the silliness with a gracefully designed Maya Calendar app that renders dates in Maya glyphs and offers accurate background information on Maya time-keeping methods. The app's "Today in Maya History" feature draws on actual events recorded on Mesoamerican monuments and is a great reminder that the Maya aren't just the exotic doomsayers of popular imagination, but a people with a fascinating culture that has lasted for millennia.



The Incredible Voyage of Ulysses
Getty Publications, $19.95


Here's a children's book that even adults will treasure. In 58 gloriously illustrated pages, author and artist Bimba Landmann presents her version of Ulysses's perilous, 20-year journey home following Greek victory in the Trojan War. The book's text and imaginative pictures, reminiscent of ancient Greek art, are tightly interwoven, offering dramatic portraits of Sirens, Lotus Eaters, and giant cannibals, among other loathsome or tempting distractions that threaten Ulysses at every turn of the oar. Readers 8 to 12 will be thrilled, delighted, and perhaps a bit overwhelmed by this imaginative re-creation of Homer's classic tale.
Share