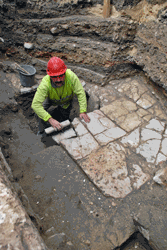 (Photo: Courtesy Israel Antiquities Authority)
While excavating a section of the Arab souk, or marketplace, in Jerusalem's Old City, Israel Antiquities Authority archaeologist Ofer Sion had the good fortune to consult a 1,500-year-old mosaic map on the floor of the Greek Orthodox Basilica of Saint George in Madaba, Jordan. It depicts the Holy Land, especially Jerusalem, in great detail and includes the equivalent of "X" marks the spot.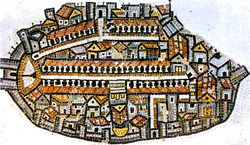 Archaeologists unearthed a 6th-century A.D. street depicted on a Jordanian mosaic map of Jerusalem.
After analyzing the modern souk's proximity to still-standing landmarks depicted on the mosaic, Sion figured the city's sixth-century A.D. main thoroughfare might run under the market. The Byzantine street was covered by a large building during the Middle Ages and, more recently, by Mamluk-era (13th-14th century A.D.) shops and storerooms. But when Sion dug deeper, he found flagstones of the sixth-century pavement, just where the map indicated they would be. "We don't have any better document from the Byzantine period," says Sion. "When [the mosaic's cartographer] illustrated the city, he wasn't making things up." It is likely he had been to Jerusalem—and had seen the street for himself.
Share