| | |
| --- | --- |
| (Erich Lessing/Art Resource) | (Erich Lessing/Art Resource) |
Human bodies aren't the only residents of northern European bogs. Cold, wet, anoxic, acidic peat also preserves metal, wood, clothing, and leather, among other things. Many items found in bogs are believed to have been left there intentionally, as votive offerings to some forgotten systems of belief. Here are just a few of the more spectacular finds.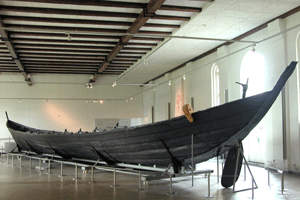 (Erik Christensen/Flickr)
Nydam Ship: In the Iron Age, Nydam Bog, near the town of Øster Sottrup in Denmark, was a sacred lake, where weapons and other remnants of vanquished armies were placed. The lake eventually became a bog, preserving a variety of items that date from A.D. 200 to 450, including three ships—one in pieces, one lost around 1864 as a result of a local war, and a third that is still intact. The Nydam Ship, as the latter is known, weighed more than three tons, was built for 15 pairs of oars, and has provided countless insights on early Nordic boat-building. In 1997, two wooden posts with male faces on the ends—they had probably been mounted on gunwales—were also discovered.
Dowris Hoard: Dating to the seventh century B.C., a collection of almost 200 bronze spearheads, axes, large curved horns, crotals (either musical instruments, weights, or something to do with a bull-scrotum cult), and other items was discovered in County Offaly in Ireland. The bog or lake they were left in might have been a central offering place.
The Faddan More Psalter: A leather-bound vellum Book of Psalms turned up in a central Irish bog in 2006. The early medieval tome, written in Latin, was open to what is now referred to as Psalm 84, and makes reference to the "vale of tears."
Céide Fields: Bogs can conceal more than small items—sometimes they preserve entire landscapes. Beneath a vast bog on Ireland's North Mayo Coast, a peat cutter in the 1930s stumbled across the 5,500-year-old remains of a complex of houses, megalithic tombs, and fields surrounded by stone walls that indicate a sophisticated Neolithic farming and grazing system. At around four square miles, it is one of the most extensive known Stone Age sites in the world.
Trundholm Sun Chariot: Found near Sjaelland, Denmark, this two-foot-long, 3,400-year-old, bronze wheeled statue depicts a horse pulling the sun (gilded only on one side) across the northern sky. Additional pieces of the chariot's wheels were found with a metal detector in 1998, nearly a century after the initial discovery.
Gundestrup Cauldron: This first-century B.C. find from Raevemose Bog in Himmerland, Denmark, presents a strangely international puzzle. The decorated silver vessel, discovered in 1891, had been dismantled into more than a dozen pieces before it was buried. Though the imagery on the cauldron's panels—including deities, a dragon, and a variety of animals—appears to come from the Celtic pantheon, the style and workmanship strongly suggest a Thracian origin in southeastern Europe. Further complicating matters, it may have been made from Persian coins, and some suggest there is also an Indian influence on the imagery.
Back to Bog Bodies Rediscovered
Share