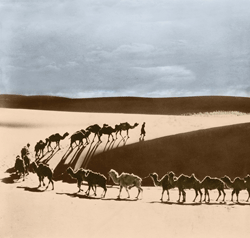 (© AMNH/James Shackelford)
Today, we all know the vast and complicated network of overland trade routes that connected China and the Middle East from roughly the time of the Romans to A.D. 1400 as the Silk Road. The term conjures visions of heroic merchants traveling 7,000 miles to bring exotic goods to the West. But in truth, the moniker was thought up in the 19th century, and the concept itself is a bit of a mirage. Merchants likely plied only sections of a number of routes that crisscrossed Asia, and goods likely traded hands from city to city many times before arriving at their destinations.
Traveling the Silk Road: Ancient Pathway to the Modern World, on view at the American Museum of Natural History in New York until August 14, 2010, manages to both trade on the romance inherent in the idea of a Silk Road and take a stab at re-creating life in Central Asia from A.D. 600 to 1200, the heyday of trade between China and the Middle East. While the exhibit explains it is unlikely that many people traveled the entire route, the conceit of the show is to take the visitor on a vibrant voyage that begins at the Chinese capital of Xi'an, goes through the Central Asian cities of Turfan in the Taklamakan desert and Samarkand in modern-day Uzbekistan, and ends in Baghdad, then the center of the Arab world.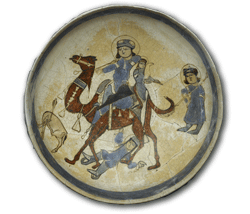 (© Brooklyn Museum)
Each of the four sections highlights goods—silk, glass, paper—and ideas, notably Buddhism, that spread along the trade networks. The exhibit relies heavily on goods excavated from Chinese Tang Dynasty (A.D. 618–910) graves, especially ceramics, to enliven the narrative. An explanation of how musical instruments spread along the Silk Road is accompanied by a ceramic sculpture of seven musicians on camelback found in an A.D. 723 Chinese tomb. They are hauntingly reminiscent of Disney's Seven Dwarves.
The section devoted to Samarkand, the central city of the Sogdians, who conducted much of the trade along the Silk Road, is a real strength of the show, combining artifacts and ancient texts to bring these often overlooked people to life. Be sure to make time to watch a cartoon version of Aesop's "Tale of the Golden Goose," which was a popular story in Central Asia. The animation is based on murals found during the excavation of a Sogdian merchant's house.
Baghdad is the terminus of the exhibit, but just as one can argue that the Silk Road extended to Venice or even Spain, visitors can continue to explore the trade route in the museum's permanent Hall of Asian Peoples, one flight down. Its dioramas are sterile compared to the evocative displays in the Silk Road exhibit, but you'll find gems here too. I won't spoil it, but as you go through the hall, be on the lookout for flying carpets.
Share