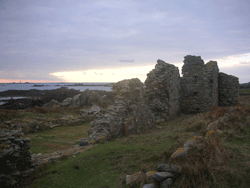 (Courtesy Philip de Jersey)
The British Crown dependencies of Guernsey and Jersey off the coast of Normandy aren't obvious tourist destinations. But if you find yourself there, archaeologist Philip de Jersey says you shouldn't miss the medieval ruins of Lihou, a small island off the west coast of Guernsey that is only accessible via a causeway at low tide.
The Lihou ruins: The remains of the Priory of Notre Dame de Lihou, a medieval monks' residence, still stand on the island. Founded by Benedictine monks from Mont-Saint-Michel in Normandy in the 12th century, the priory now consists of a small church, the monks' house, and a dovecote where the monks' servants kept pigeons for food.
Archaeology of the priory: The church walls were decorated with carved limestone from the Caen region of northern France. Painted window glass and a floor of green and yellow glazed tiles are still visible at the site. Archaeologists digging at the priory found painted glass, fine pottery from southwest France, and coins that show the residence was wealthy. Many of these artifacts are on display at the Guernsey Museum.
Staying on the island: A house on Lihou that accommodates up to 30 people can be booked at www.lihouisland.com. There is no shopping on the island, so be sure to bring food. The house is outfitted with a kitchen.
Keep in mind: Consult the Lihou Causeway Opening Times chart before going to the island. You could get stranded for a night or even a week when dangerous high tides cover the causeway. For a native's take on the ruins, contact de Jersey (Philip.DeJersey@cultureleisure.gov.gg). He's offered to take ARCHAEOLOGY readers on personal walking tours of Lihou and can also tell you more about Guernsey's other archaeological sites, from Neolithic standing stones to medieval castles.
Share